Dance Open Starts Tonight

The Dance Open, presented by the Department of Theatre & Dance, features student-choreographed work in a wide range of styles. The show is directed by students under the mentorship of instructor Annie Browne and will be performed in Steinbach Theatre in George Washington Hall.
Friday, February 4, at 8:30 p.m.
Saturday, February 5 at 1 p.m. and 7:30 p.m.
Sunday, February 6, at 1 p.m.
Please reserve your seats here and read reservation information carefully. Masks are required in the theatre and in GW Hall. Can't make it in person? We will also be livestreaming the performances! Click the link above, click Buy Tickets, and select "Virtual Stream" for the show you wish to see; you will receive an email confirmation and link to the show.

Support for Your Student
Should your child need academic or other forms of support as the term progresses, here are some of the campus resources available.
Health & Wellness Update
As of Wednesday, February 2, more than 99% of PA students have received 1+ vaccination dose(s) and more than 84% have received a booster. Two students have tested positive in the past five days. Overall, COVID metrics have been improving across our campus, community, and state; new cases and hospitalizations are continuing to decline. To see the complete data from Dr. Amy Patel, Sykes Wellness Center medical director, please visit COVID-19 Updates & Information.
COVID-19 testing will continue to be a combination of rapid antigen and PCR testing. We are testing students who are symptomatic, close contacts, and medically at higher risk.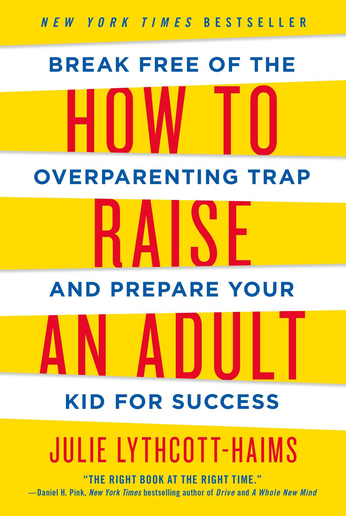 How to Raise an Adult
MOSAIC, PA's mixed heritage affinity group, is excited to welcome New York Times best-selling author Julie Lythcott-Haims, our 2022 keynote speaker for the Academy's ninth annual Mixed Heritage Awareness Week, February 7–11.

Parents, please join us via Zoom on Thursday, February 10, at 7 p.m. ET: As part of the PSPA Speaker Series, Lythcott-Haims will discuss How to Raise an Adult, her best-selling book that gave rise to a popular TED Talk. Zoom link. Passcode: 2p3kYQ

Students-only events: On Thursday morning, Lythcott-Haims will deliver an in-person address to the senior class for EBI Transitions based on her newest book, Your Turn: How to Be an Adult, which has been called a "groundbreakingly frank" guide to adulthood. On Friday, February 11, at All-School Meeting—the culminating event of Mixed Heritage Awareness Week—Lythcott-Haims will discuss with all students her critically acclaimed and award-winning memoir Real American, which illustrates her experiences as a Black and biracial person in white spaces.

All three events will be recorded and made available on The Hive for later viewing. Lythcott-Haims's visit is made possible by the Donald Sutherland '49 Fund for Curriculum, with additional funding from the PSPA.
Peabody Diggin' In Webinar

Wednesday, February 9, at 1:30 p.m. ET: Join us for Season 4, Episode 2, of the Peabody Diggin' In series, "When It's Not About You: Heirs and 'Experts' in the Study of Non-Eurocentric Pasts," with guest speaker Dr. Heather MacLeod-Leslie.

"The past two and a half decades of researching the archaeological heritage of Atlantic Canada's African Diaspora peoples and working for the Mi'kmaw Nation in Nova Scotia has yielded some critical teachings for me as a professional archaeologist," says MacLeod-Leslie. "In this presentation I will share thoughts on some of those lessons about academic privilege and propriety, interpretation and storytelling, sharing power, and acknowledging and coping with the legacies of Eurocentric biases in archaeological interpretations." Please sign up for this webinar on our new online registration page.

In-Person Music Performances

The Department of Music is pleased to welcome PA families to these February performances in Cochran Chapel:
Academy Bands—Friday, February 11, 7:30 p.m.
Academy Chorus, Fidelio Society, with Orchestra—Sunday, February 13, 3 p.m.
Academy Jazz Band and Ensembles—Friday, February 18, 6:30 p.m.
Chamber Music—Saturday, February 19, 6:30 p.m.
Academy Orchestras—Sunday, February 20, 3 p.m.
Please note that proper masking is required at all times and that visitors must be fully vaccinated and boosted, if eligible, to attend events at Phillips Academy. If you or anybody in your household is displaying COVID-19 symptoms, you should not attend an event at PA. No eating or drinking is allowed in Cochran Chapel. Performances will be recorded and made available for viewing at a later date.
Addison Gallery Virtual Conversation
Saturday, February 12, at 2 p.m. ET: Join artist Fred Eversley, whose work is featured in the Light, Space, Surface exhibition at the Addison Gallery, and Kim Conaty, the Steven and Ann Ames Curator of Drawings and Prints at the Whitney Museum of American Art and author of an essay in the exhibition catalogue, for a virtual conversation about Eversley's work and the West Coast Light and Space movement of the 1960s and 1970s. Space is limited. Please register here.
News from the PSPA
We are excited to share the following February activities. Join us in person or virtually for as many as you can! Please remember that all guests on campus must be fully vaccinated and wear a mask.

Casino Night—Saturday, February 5, at 8 p.m. ET, Paresky Commons: Take part in the most anticipated event of the year and help make the evening a great one for our students! This year's theme is 007. We need parent volunteers for decorating/setup, serving refreshments, and of course, to be dealers for the night. Please sign up here.

PSPA Book Club—Sunday, February 6, at 8 p.m. ET: Join us for a special PSPA Book Club with Dr. John Francis P'25, author of Planetwalker: 22 Years of Walking. 17 Years of Silence. He will share his story about his walking pilgrimage, advocating for the environment, and how to make a difference. You can read about him and his incredible journey here. This event is open to all interested (you do not need to join the book club or read the book). Zoom link. Passcode: 564896

PSPA Speaker Series with guest Julie Lythcott-Haims—Thursday, February 10, at 7 p.m. ET. All parents are encouraged to join us for Lythcott-Haims's address based on her New York Times best-selling book How to Raise an Adult. This event is now virtual. Please see the earlier story in this Family Bulletin for more details. Zoom link. Passcode: 2p3kYQ

Faculty Panel Discussion on Andover Academic Experience for Uppers and Seniors, with Q&A—February 17, 7–8 p.m. ET, Kemper Auditorium: Mark your calendars for our next Academic Experience Faculty Panel, which will focus on uppers and seniors. A Q&A session will follow. This collaborative program is brought to you by the PSPA and Dean of Studies Raj Mundra P'18, '20. Livestream link.
Virtual Mixer and Trivia Night—Thursday, February 24, at 8 p.m. ET:
Back by popular demand! Meet parents and guardians at our winter term virtual mixer and trivia night. We will start with introductions and then play a fun and low-pressure team trivia game. No trivia experience necessary!
Zoom link.
Passcode: qC0ZVb
Are you a social media enthusiast?
The PSPA needs your help with social media content generation and management of our social platforms. Tasks are flexible and based on your available time. Please email us for more information.

Campus Closet needs local volunteers to help with store and inventory management, displays, and merchandising. Join a small team of two, three, or four volunteers to help manage our mom-and-pop organization. You'll meet other parents, have some fun, and help us keep our doors open. Please email to learn more.

We will train all volunteers—no experience is necessary. Roles are scalable and flexible based on your availability and interest. Volunteers get discounts on clothing and gear! Thank you to those who have reached out to us thus far.

Shop Campus Closet online. New items and favorite classics now back in stock! Consider sending your student some warm PA gear—like a new hoodie or a cozy blanket. Delivery on campus is free.
This Week's Religious Gatherings
Friday, February 4
1 p.m.—Muslim Student Association (MSA) Prayers: Led by Noureddine El Alam. Meditation Room, lower level of Cochran Chapel (side entrance). Masks required.
5:30–6:30 p.m.—Jewish Shabbat Service and JSU Meeting: Led by Rabbi Michael Swarttz. Paul's Room, upper level of Paresky Commons. All are welcome! Masks required if not eating.
Sunday, February 6
6–7 p.m.—Protestant (Ecumenical) Communion Service: Led by Rev. Gina M. Finocchiaro, interim Protestant chaplain. Special music by the Phillips Academy Gospel Choir, directed by Michael Belcher. All are welcome for this time of scripture, prayer, spoken reflection, and music! Masks required. Cochran Chapel.
6:45–7:30 p.m.—Catholic Mass: All are welcome to this prayer of the Catholic community. Overseen by Dr. Mary Kantor, Catholic chaplain, with priests of the Archdiocese of Boston presiding. Kemper Chapel, lower level of Cochran Chapel (side entrance). Fellowship time will follow. This Mass may be open to (masked) campus community only; please email Dr. Kantor with inquiry. (Subject to change if need to return to virtual setting)


Curriculum Corner
Highlights of the Academy's extensive course offerings
Most students will experience at least part of the Academy's five- to six-term precalculus sequence (MTH300–360)—core to the Department of Mathematics, Computer Science, and Statistics. Precalculus gives students access to the world of functions. Critical to our ability to make sense of the world, functions help us to visualize patterns, model behavior, make predictions, and analyze relationships between variables. This fall term, 16 instructors taught 35 sections of precalculus to 517 students!

Throughout their coursework, students develop the skills to reason through problems both quantitatively and graphically while connecting prior knowledge to newfound concepts. They also learn to use multiple representations to explain and describe mathematical relationships as well as apply models to interpret physical, social, and mathematical phenomena. Instructors work to create a collaborative learning environment in the classroom, where diverse perspectives are celebrated. Our goal is to build confident, innovative, and resilient problem solvers.
You Are Invited!
All events are virtual unless otherwise noted. Please join us!

Please check the Events Calendar on Andover's website regularly for additional in-person and online events that may be open to families. The Weekender is the Academy's one-stop guide to weekend student activities, opportunities, club-organized events, guest speakers, performances, and athletic contests.

Family Bulletin Archive »

Phillips Academy
180 Main St.
Andover, MA 01810


You received this message because you are a valued member of the Andover community. We are obligated to communicate with you, and require you to be on our email list while your student(s) attends Phillips Academy. For more information contact the Dean of Studies Office.
© 2022