Parent Bulletin
Phillips Academy Head of School Office
Rebecca Sykes, associate head of school
March 2, 2012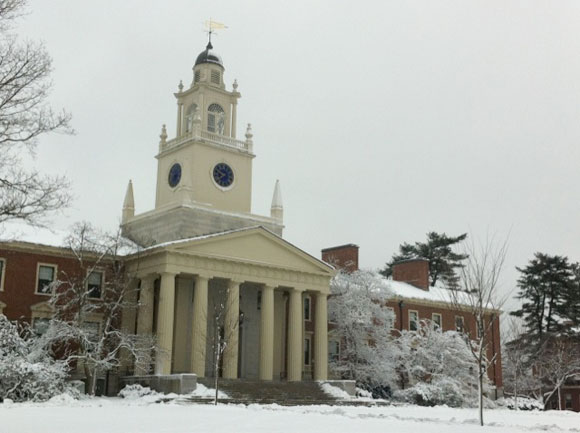 Spring Break is in Sight!
After a warm and snowless winter, yesterday's storm forced us to pull out our boots again and relearn how to walk on icy paths. Student shoveling crews have supplemented the tireless efforts of the physical plant staff to clear stairs and sidewalks. Now, we are approaching the last weekend of the term and final assessment week. As you have undoubtedly heard from your children, everyone is looking forward to the vacation. Happy Spring Break to all!
PSPA Meeting March 7th
PSPA's next meeting is Wednesday, March 7th at 7:00 p.m. at the Addison Gallery. The topic is "PA Curriculum Connections with the Addison." Museum Learning Specialist Jamie Kaplowitz and Emma Frey, Instructor in History and Social Science, will discuss the connections between the academy's curriculum and the museum's resources—including the permanent collection and the current Civil War exhibition—and will highlight the many uses of the Museum Learning Center.
In Touch with…
Mike Kuta, Athletic Director

As hopeful spring athletes prepare for their upcoming season, we would like to ask families for their support. Team tryouts—underway now for the spring season—can be the first opportunity for young athletes to realize disappointment. To this point in their athletic careers, most have experienced teams wherein playing time is equally shared.

Please know we understand that students join teams in order to play. However, there will be times when not everyone gets into games. Our coaches believe that regardless of minutes played each athlete can affect the team's performance, each has an equal responsibility and duty to the team, and all roles are equally important.

In all areas of our educational program, including sports, our students learn to self-advocate. Just as it is essential for our students to meet with their teachers outside the classroom to talk about academic progress, it is important that athletes communicate directly with their coaches. To promote this important aspect of students' personal growth and development, we established the following policy.

The doors to the coaches' office are always open to our athletes. If your child ever has a concern about any matter related to the team, encourage him or her to speak directly to the coach.
Only athletes speak to their coaches about playing time. They may ask the team captain or another teammate to join the meeting.
Any communication (phone calls or emails) from parents pertaining to playing time will be shared with the athlete.
If there is further concern in this area, the student may meet with the Director of Athletics.

Thank you for your support of Andover Athletics!
News from the Andover Inn
The Andover Inn has been the setting for generations of family events. It is an ideal place to celebrate student birthdays, especially a Sweet 16 or 18th. An added benefit of the Inn is that your son or daughter has the sense of being off-campus, but is within the safety of Academy grounds. No worries about coordinating transportation or gathering permission slips! The Inn has excellent resources for DJs, decorations, and entertainment and can create custom menus, gourmet cupcake displays and candy buffets to make an event truly memorable.
Samuel's Restaurant will once again be offering a delectable Sunday Easter Brunch from 10:00 a.m.to 3:00 p.m. A grand buffet will be featured in the lobby with seating in the dining room and in our cozy Phillips Room. Brunch entrees will include hand carved Virginia baked ham and all natural turkey breast. Breakfast items will include Lazy Man's Eggs Benedict, apple-smoked bacon and sausage links. $36 per adult, $18 per child (age 5 to 12). Reservations are strongly recommended. Please call 978-775-4910.
Trustees set 2012-2013 tuition
During its winter meetings, the Board of Trustees began preliminary work on the 2012-2013 budget by setting tuition at the following levels: $44,500 for boarding students and $34,500 for day students. In addition, the board approved a financial aid budget that preserves Andover's need-blind policy, which removes financial need as an obstacle to admission.
Re-Enrollment for 2012-13
Once again, we will be utilizing our online enrollment process for returning students. This system will allow families to submit their enrollment agreements electronically, resulting in a much more streamlined and environmentally-friendly process.
We expect to send instructions for completing the enrollment agreements electronically, on or about March 15th. Families have until April 15th to submit their completed enrollments agreement.
If you plan to utilize Tuition Management Systems to participate in the ten-month payment plan, you should contact them directly at www.afford.com/andover as soon as possible to open your account. Your $2,000 non-refundable enrollment deposit will be applied to your 2012-2013 tuition.
Andover Chamber Music (Mistral)
Andover Chamber Music Artistic Director Julie Scolnik (P '08, P '13) invites the Phillips Academy community to join her for the 15th Anniversary Season Finale of a chamber series that has been celebrated for its unique thematic programming and the high caliber of its artists. The concert, titled Intimations of Immortality, will be held in the Cochran Chapel on Sunday, April 15th at 3:00 p.m. Admission is free and open to all members of the PA community.