Relax and Enjoy

We wish all PA families a fun and relaxing two weeks. Enjoy this special time with your students! The next Family Bulletin will be sent March 24.

Health & Wellness Reminders
Is your student getting a booster over break? Please be sure to send a copy of their booster documentation to sykeswellness@andover.edu so we can update your student's record and clear them to return after the break.
Sykes Wellness Center hours during Spring Break: The wellness center will be open 9 a.m. to 5 p.m. weekdays only from Monday, March 7, through Friday, March 18, and will be closed the weekends of March 11–12 and March 19–20. We will return to our regular operating hours at 9 a.m. on Monday, March 21.

COVID testing prior to returning from Spring Break: Students will take home a two-pack of COVID tests to take prior to their return to campus. We ask that each student take the first test one day before traveling to campus on March 20 and the second test on the day of travel to campus, March 21. Ideally, a parent or guardian will be with the student when testing. An email will be sent to families over the break with instructions. Please follow all directions to ensure accurate data is submitted. If you have any questions/issues with testing, please contact the Sykes Wellness Center during the operating hours noted above.
Physical examination due? If your child's physical exam has expired or is about to expire, please schedule an appointment with their primary care doctor during Spring Break. Remember, your student must have a current physical on file at the Sykes Wellness Center. ("Current" means the exam must have taken place within the past 13 months.)
Term 2 Reports
End-of-term grades will be posted on The Hive on Wednesday afternoon, March 9.

Term 3 Schedules
Students received their Term 3 schedules late yesterday afternoon. Early course add/drop/change requests will be accepted today (Thursday, March 3) and Friday, March 4. The regular on-campus add/drop/change process will resume on Tuesday, March 22. The deadline to add a new course is Friday March 25.
Students may only submit course add/drop requests during this early add/drop period (March 3–4) if the requested course was originally included on their Course Request Form (CRF). These requests do not need to be signed by the advisor or college counselor.
Requests for courses that were not originally included on the student's CRF may be submitted starting Tuesday, March 22, and will need approval from your student's advisor (and college counselor, if applicable).
Students who receive incomplete schedules (fewer than five classes for juniors, lowers, and uppers, or seniors wishing to add a fifth course) should be in touch with Mr. Shows right away.
A note about teacher changes: Students may occasionally find themselves assigned to a different teacher or section in continuing courses for the next term. These changes are necessary for a host of reasons, including faculty leaves and sabbaticals, new teacher workloads, the need to balance section sizes, and the scheduling of other courses. We understand that the prospect of a teacher change can make some students nervous. We encourage you to help students develop the resilience they need to embrace change as a necessary part of life and filled with wonderful opportunities. Please note that we do not honor schedule requests for particular teachers or periods. Policy related to requesting a change of teacher may be found in The Blue Book.
Academic Calendar for 2022–2023
Don't Miss the Music!

Term 2 student concerts—including performances by the Academy Concert Bands; Academy Chorus, Fidelio Society, and Amadeus Chamber Orchestra; and Academy Jazz Band and Ensembles—are available on our YouTube channel.
News from the PSPA
Thank you to all who joined us for our Virtual Trivia Night & Mixer and to all the volunteers who helped organize the school-wide Clementines and Donut Snack Break last week.
Campus Closet OPEN tomorrow, Friday, from noon to 4 p.m.: We are celebrating the start of Spring Break with a special Campus Closet shopping event. Be sure to come early and shop before you pick up your student! You'll find shorts, hoodies, a YETI mug, a new cap, and more. Campus Closet is on the lower level of George Washington Hall. And remember, you can always shop online. On-campus delivery is free!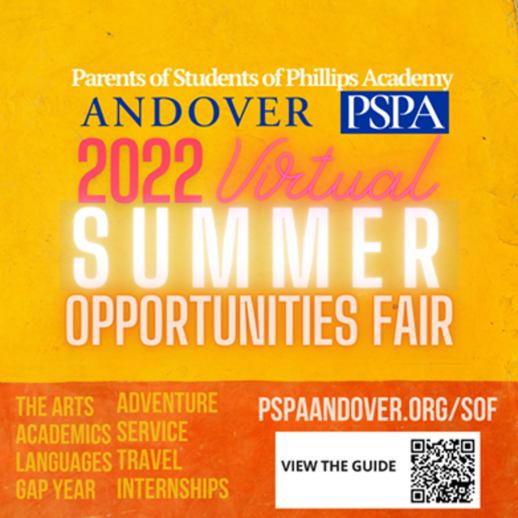 Now Available! Virtual Summer Opportunities Fair: The PSPA's all-new online guide is the perfect place for you and your student to start exploring exciting summer opportunities across the country and around the world. You'll discover nearly 100 independent programs, including college experiences, languages, arts, outdoor adventures, foreign language immersion, tutoring, test prep, and more.
Help spread the word! Please forward the link to your friends and family–and share it with your local schools and any other institutions where students may find the information useful. Please email us with any questions.
Mark your calendars: Please join us for our next PSPA General Meeting and a collaborative program brought to you by the PSPA and College Counseling Office.
Thursday, April 7, at 6:15 p.m.: PSPA General Meeting in the Underwood Room. A light dinner will be served 5:45–6:15 p.m.
Thursday, April 7, 7–8 p.m.: PSPA Speaker Series with Directors of College Counseling in Kemper Auditorium (and via Livestream), followed by a Q&A. Speakers will discuss "A Holistic Approach to an Andover Education"—the value of engaging fully in the Andover experience plus the ways you can support your student's time at Andover and lay the foundation for a healthy, balanced approach to the college application process. If joining remotely, please feel free to submit your questions in advance via this form.
Curriculum Corner
Highlights of the Academy's extensive course offerings
The Department of Theatre and Dance's introductory courses—for juniors and new lowers—are exciting ways for students to begin their exploration of creative expression at PA. Team-taught by three members of the department, Intro to Theatre and Dance (THD210) explores the foundations of theatre and how directing, choreography, costume design, scenic design, lighting design, acting, and dancing combine to create a unified production for an audience. Dance 1 (THD251) investigates why dance is a fundamental component of cultural communication. Through theory, research, and physical expression, students learn about many genres of dance as well as pivotal choreographers. Each faculty member brings their own experiences and perspectives to these explorations of human expression. Acting 1 (THD250) emphasizes a variety of acting experiences and approaches rather than a polished final product. Students are introduced to exercises in movement, voice, and characterization while exploring improvisation, scene work, and script analysis.

With these introductory courses as a foundation, many students pursue further theatre and dance coursework and participate in a variety of performances and productions.
You Are Invited!
All events are virtual unless otherwise noted. Please join us!

Please check the

Events Calendar

on Andover's website regularly for additional in-person and online events that may be open to families.

The Weekender

is the Academy's one-stop guide to weekend student activities, opportunities, club-organized events, guest speakers, performances, and athletic contests.
Family Bulletin Archive »

Phillips Academy
180 Main St.
Andover, MA 01810


You received this message because you are a valued member of the Andover community. We are obligated to communicate with you, and require you to be on our email list while your student(s) attends Phillips Academy. For more information contact the Dean of Studies Office.
© 2022