Midterm Grades & Comments

The Dean of Studies Office will post Term 3 midterm grades and comments in the Student Reports section of The Hive on Tuesday, April 26. Midterm grades are P/LP/F (pass/low pass/fail) for all courses. Midterm Reports will be written only in classes where the teacher has concerns about a given student (low grades, incompletes, concerning behaviors, etc.). If a student is doing well in all their classes they may not see any midterm instructor comments. End-of-term grades will use the Academy's regular 0–6 scale, except for Physical Education 200, which is pass/fail.
Health & Wellness Update

As of Wednesday, April 13, more than 99% of PA students have received 1+ vaccination dose(s) and more than 98% have received a booster (1.9% have received a religious or medical exemption). COVID metrics are continuing to increase again across our campus, community, and state. COVID-related hospitalizations remain low, indicating a low level of significant COVID-related illness. Guidelines on campus will not change today. We will continue to mask in indoor spaces. All students were asked to test again today, April 14, using a rapid antigen test. To see the complete data from Dr. Amy Patel, Sykes Wellness Center medical director, please visit COVID-19 Updates & Information.

Reminder for campus visitors: All campus visitors—including those attending events and activities noted in the Family Bulletin—must be up to date with their vaccinations and wear masks indoors.
Live Music!
The Department of Music invites members of the PA community to a concert, "Three Centuries of Trios," in Cochran Chapel on Saturday, April 16, from 7:30 to 8:30 p.m. Find out more here.
Next weekend: Join us for a recital featuring adjunct instructors Krista River (voice) and Stephen Porter (piano) on Sunday, April 24. Find out more here.
All Invited to Investiture May 7

The Board of Trustees invites the Phillips Academy community to the investiture of Head of School Raynard S. Kington, MD, PhD, P'24, on Saturday, May 7, from 11 a.m. to noon on the Richard T. Greener Quadrangle. Board President Amy Falls '82, P'19, '21, will lead the ceremony to formally "charge" our 16th head of school. Refreshments will follow in Flagstaff Courtyard.
We hope you can join us for this historic event. Throughout its 244 years, Phillips Academy has had just 16 heads of school. Its most recent investiture ceremonies were held for John G. Palfrey Jr. in 2012, Barbara Landis Chase in 1994, and Donald W. McNemar in 1981.
Please click here for more information and to register.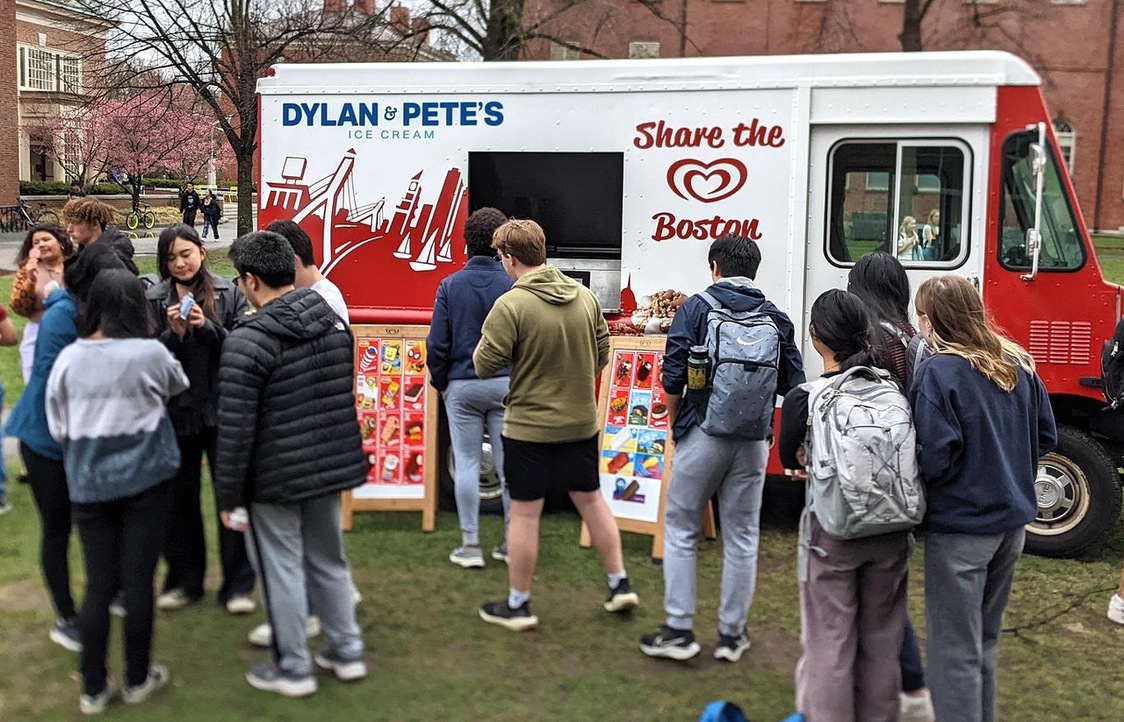 Delish! Students flocked to the Dylan & Pete's ice cream trucks last Friday for a lunchtime treat. Achieving PA Giving Day's goal of 2,022 donors on March 30 prompted this much-appreciated surprise.
Housing Process for 2022–2023
Last Friday, all returning students were provided with some important general information regarding the housing process for the 2022–2023 school year. To maintain stability and continuity for students and house counseling teams, we will continue with 9/10 and 11/12 dorms next year.

Our aim is to build and cultivate inclusive, supportive, and deliberative residential spaces. We define inclusion as "the act of creating environments in which any individual or group can be and feel welcomed, respected, supported, and valued to fully participate. An inclusive and welcoming climate embraces differences and offers respect in words and actions for all people." Our housing process seeks to build inclusive living spaces for every member of our community. We believe that inclusive spaces allow students to be their authentic selves, provide a context in which deeper and richer learning can happen, and foster meaningful connections among diverse members of our community.

Students chose to join a community that is intentionally diverse and welcoming; building inclusive living environments is an essential part of their Andover education. Our housing process is intentionally designed to give students choices regarding whom they want to live with or near and for house counselors and deans to be able to construct dorm communities that reflect our community's diversity. We expect to complete housing assignments for returning students by mid-May.

Our guiding principles and goals:
Relationship-building between students and house counseling teams; maximize consistency and longevity (maintain two-year relationships where possible)
Creating inclusive, deliberate, and supportive residential communities (offer some level of student choice and lean into adult design as often as possible, particularly for younger students)
Meeting student needs (ensure all-gender housing [AGH] options; scaffold support, structure, and independence in age-appropriate ways; create conditions for age-appropriate residential programming)
Developing student leaders (maintain a deliberate application, selection, and training process for residential student leaders)
Offering transparency, providing stability, and minimizing stress (design a process that is deliberate, efficient, and responsive)
Reasonable Accommodations Requests: Phillips Academy provides support services and reasonable accommodations to students who qualify under the Americans with Disabilities Act. The deadline to request any type of disability accommodation related to housing for the 2022–2023 school year is June 1, 2022. Requests related to housing made outside of the deadline will likely not be able to be granted in time for the start of the academic year. Please complete the "Reasonable Accommodations Request" form in the Medicat Health portal and upload supporting documentation or email it to this address. Questions about this process? Please email Laura Warner.
Storage Option for Boarding Students
Wondering what to do with your child's belongings when they leave campus at the end of the school year? Phillips Academy has partnered with Collegeboxes to provide a solution for boarders who need to store their clothing, books, furniture, etc. over the summer. Collegeboxes will pick up items, place them in storage, and deliver them to your child's dorm room just before school starts next year. There are costs associated with this service. NOTE: Student belongings cannot remain on campus over the summer.
Essential information and important dates:
Campus Pickup Days
Wednesday, June 1—for ALL Students
Thursday, June 2—for ALL Students
Friday, June 3—for SENIORS and those participating in Commencement ONLY

Monday, May 23
Last day to sign up with Collegeboxes AND still receive a supply kit.

Thursday, May 26
Final delivery of supply kits (boxes)—previously ordered.

Friday, May 27
DEADLINE to sign up. (Student must purchase/find their own boxes.)

Pickup of Belongings
Be sure your child enters their CURRENT dorm and room for pickup location.
All boxes must be packed and ready to go by 7 a.m. on pickup day. Students should finish packing the night before.

Deliveries in the Fall
We will provide your child's 2022–2023 dorm and room to Collegeboxes; you DO NOT need to enter this information. Items will be delivered to dorm rooms before students arrive.

Questions? Please email Claudia Scofield in the Dean of Students Office or call 978-749-4124.
Celebrate Your Senior

The Phillipian, Phillips Academy's student newspaper, will publish its annual Commencement issue over the weekend of June 4. This longer version of the newspaper will capture the major events that occurred throughout the school year and will be available for purchase that weekend.
Submit a "family advertisement": The Phillipian invites parents of seniors to commemorate your student's achievements through a family advertisement in our Commencement issue. Last year, nearly 100 families dedicated a commemoration to their student(s); we hope to achieve 100 percent family participation this year. Members of The Phillipian staff will work closely with you to ensure that your family advertisement features all of the photos and messaging you want to include about your child—and/or a favorite student organization, club, or team that your senior has been involved with—in a professional manner. Please complete this family advertisement form as soon as possible. The deadline is Friday, May 13.

Questions? Please email Isabella Alvarez, Phillipian chief financial officer.
2022 Commencement News
The following information was also included in our March 31 issue. We look forward to welcoming the families of seniors to campus in June to celebrate Phillips Academy's 244th Commencement. In the coming weeks, an invitation will be sent to your home, and seniors will receive four additional "keepsake" invitations in their student mailboxes. Please note that invitations are not required for attendance.
The following two events that are open to families involve tickets.

Candlelight Baccalaureate: The Baccalaureate service is held in Cochran Chapel on Saturday evening, June 4. Due to fire code capacity, this event is restricted to seniors and ticketed guests. The Baccalaureate will be simulcast in Kemper Auditorium for all additional guests.

Each senior will receive four Baccalaureate tickets (three guest tickets and one ticket for the student) in their student mailbox on June 1. Seniors need one of these tickets to attend this event.
Commencement Exercises: Commencement is held Sunday morning, June 5. We are strongly committed to holding Commencement outdoors, because if held outdoors tickets are not necessary and all guests are welcome. However, if severe weather forces Commencement to be moved indoors, seating will be limited and admission will be restricted to ticketed guests. The ceremony will be simulcast in an adjacent venue for all non-ticketed family members and guests.
Each senior will receive three guest tickets for Commencement in their student mailbox on June 1. Seniors do not need a ticket for the indoor ceremony.

During Commencement Weekend, all on-campus events, including meals, are complimentary for all guests. Please note that only service dogs are allowed on campus during Commencement.

If you have questions that fall outside of the resources on the Commencement webpage, please connect with Crystal McGuire via email or call 978-749-4282.
News from the PSPA
Out of the Darkness Walk and Fundraiser—Join the PSPA team on Sunday, May 15, at 12 p.m. for a student-organized walk on campus to support the American Foundation for Suicide Prevention's mission to save lives. You can also support the effort virtually by walking on your own. Register here as a member of the PSPA team to raise awareness for this important cause. No donation is required to participate.

PSPA General Meeting & Speaker Series—Thursday, May 12

6:15 p.m. ET—PSPA General Meeting: A light dinner will be served at 5:45 p.m. Underwood Room. Zoom link. Passcode: 1WDcGc
7 p.m. ET—PSPA Speaker Series: Senior Student Panel on Navigating the College Application Process: Join us as seniors share their stories about applying to college and pass along the lessons learned from their experiences. This event is co-sponsored by the PSPA and College Counseling Office. Kemper Auditorium. Livestream Link.
Thank you to all who joined us last week for the lively and informative Q&A with the Directors of College Counseling last week. Here is the link (on The Hive) to a recording of that PSPA speaker series event.

PSPA Book Club—Sunday, May 1: Join us at 8 p.m. ET for our spring term book club meeting. We will be discussing The Last Flight, by Julie Clark. Please email us to receive the Zoom invitation.
Help Wanted: Do you have Wordpress or similar experience? We are looking for volunteers to help maintain the PSPA website. Please email us.
Plan Ahead for Graduation
Sunny spring days mean that Commencement is right around the corner!
Diploma Frames: The PSPA partners with Church Hill to offer archival quality diploma frames customized with the Phillips Academy seal and school name. A custom diploma frame is the perfect graduation gift to showcase and protect your student's achievement. See frames and learn more here.

Senior Lawn Signs: Don't miss out—order a custom-printed lawn sign for your senior! To honor our graduates, the PSPA has partnered with Kelly Wentworth Photography in nearby Tewksbury to offer lawn signs for the Class of 2022. The sign can be purchased as a yard sign, complete with frame—or as a digital file, which gives you the flexibility to print the sign near you. A portion of the proceeds will go toward PSPA events and activities. Select from three designs and order here by the April 30 deadline.

Campus Closet—in person or online: The Campus Closet has official Commencement ties, graduation gifts, and a great selection of warmer weather clothing and gear. If you are picking up your boarding student on Friday for the long weekend, stop by and see what is new. Shop in person tomorrow, Friday, from noon to 3:30 p.m. (lower level of George Washington Hall). Or shop online 24/7; on-campus delivery is free!
Virtual Summer Opportunities Fair
The PSPA's 2022 online guide to summer opportunities is the perfect place for you and your student to start exploring exciting summer opportunities across the country and around the world. You'll discover nearly 100 independent programs, including college experiences, languages, arts, outdoor adventures, foreign language immersion, tutoring, test prep, and more.
Help spread the word! Please forward the link to your friends and family—and share it with your local schools and any other institutions where students may find the information useful. Please email us with any questions.
This Week's Religious Gatherings

Campus visitors must be up to date with their vaccinations and wear masks indoors.

Thursday, April 14
5–7 p.m.—Maundy Thursday of Easter Holy Week: Join Rev. Gina Finocchiaro in reflective time together for Holy Thursday—the night we retell and remember the Last Supper of Jesus and the events set into motion that night. Paul's Room, upper level of Paresky Commons. Students are welcome to go through the line and bring their dinner to the gathering. All are welcome.

Friday, April 15
12:30 p.m.—Good Friday Service: Hosted by Dr. Mary Kantor, Catholic chaplain. This day commemorates the day Christ was crucified, died, and was buried. Christians traditionally mark this day with quiet, prayer, and fasting, and refraining from work and day-to-day activity.

Please meet at 12:30 p.m. in Cochran Chapel for student-led Stations of the Cross. A prayer form used in the season of Lent and on Good Friday, Stations of the Cross is an ancient practice that follows the steps/stations of Jesus' trial and judgment by the Roman government, and his steps to the cross and death by crucifixion. Around the world, these 14 stations are walked as a pilgrimage, or prayed inside churches with the stations marked by images, sculptures, or icons.

In past years, Good Friday Stations of the Cross at Andover have drawn on the art of sculptors, painters, and iconographers from around the world: Cambodia, Uganda, United Kingdom, Haiti, China, Brazil, United States of America, Australia. This year's Stations are by a Ukrainian artist.

Stations will be followed by a simple soup and bread meal in The Cloister, lower level of Cochran Chapel (side entrance). All are welcome to the Stations and soup lunch.


1 p.m.—Muslim Student Association (MSA) Jummah Sermon: Led by Noureddine El Alam. Meditation Room, lower level of Cochran Chapel (side entrance).


Passover Begins: Passover starts Friday evening and continues through the evening of Saturday, April 23. There will be a Passover-friendly station and matzah available in Paresky Commons throughout the holiday.
Sunday, April 17
5:45 a.m.—Easter Sunday Protestant Sunrise Service: Come for early morning Easter rejoicing and hallelujahs! Rev. Gina Finocchiaro, interim Protestant chaplain, will offer a casual sunrise service on the road at the top of the graveyard (the road that runs from Highland Rd to the back of Sam Phil). There will be a fire pit and breakfast treats! All are welcome. (Boarding Students will need to ask permission from their house counselors to leave the dorm extra early on Easter morning). If you have any questions, please email Rev. Gina.


5 p.m.—Catholic Community Gathering for Festive Easter Dinner: Hosted by Dr. Mary Kantor. Bring your dinner, bring a friend; special Easter treats served. Paul's Room, upper level of Paresky Commons.


6:45 p.m.—Easter Sunday Mass: Overseen by Dr. Mary Kantor. Mass followed by festive fellowship, hospitality, and Easter desserts. Kemper Chapel, lower level of Cochran Chapel (side entrance). All are welcome!
You Are Invited!
Join us in person for "Excellence at Our Core," with Head of School Raynard S. Kington, MD, PhD, P'24, as he meets with the Andover community in these five cities:
Other upcoming events:
Many events are now in person. Join us whenever and however you can!
Please check the Events Calendar on Andover's website regularly for additional in-person and online events that may be open to families. The Weekender is the Academy's one-stop guide to weekend student activities, opportunities, club-organized events, guest speakers, performances, and athletic contests.


Family Bulletin Archive »

Phillips Academy
180 Main St.
Andover, MA 01810


You received this message because you are a valued member of the Andover community. We are obligated to communicate with you, and require you to be on our email list while your student(s) attends Phillips Academy. For more information contact the Dean of Studies Office.
© 2022