Join Us for the Kington Investiture!

The Board of Trustees invites the Phillips Academy community to the investiture of Head of School Raynard S. Kington, MD, PhD, P'24, on Saturday, May 7, from 11 a.m. to noon on the Richard T. Greener Quadrangle in front of Samuel Phillips Hall. Board President Amy Falls '82, P'19, '21, will lead the ceremony to formally "charge" our 16th head of school.
The program will include more than 50 students participating in Fidelio, musical ensembles, and dance performances—plus the iconic Clan MacPherson Pipes and Drums. Refreshments will follow in Flagstaff Courtyard. Please click here for more information and to register.
Tonight: The Well-Balanced Student

Please join the Tang Institute and fellow parents and guardians on Thursday, April 28, at 7 p.m. in Kemper Auditorium for "The Well-Balanced Student," a presentation by Dr. Denise Pope, senior lecturer in education at Stanford University. Pope's interactive talk will explore the ways in which parent and school expectations may have unintentional but damaging effects on students. Increasing demands on students may lead to unhealthy stress, resulting in burnout, disengagement, or debilitating physical and mental health symptoms. This workshop examines the tension that parents, students, and teachers often experience over issues such as homework, grades, and the culture of competition, and offers tools for creating a healthier school climate.

This event will be livestreamed for members of the PA community unable to attend in person. Please visit this site for further details and a livestream link.
Friday: A Most Beautiful Thing
On Friday, April 29, at 7 p.m., Arshay Cooper, author of the memoir A Most Beautiful Thing, will talk about this true story of America's first all-Black high school rowing team. Presented by the Department of Athletics, this event will take place in Kemper Auditorium and is free and open to the public.
Growing up on Chicago's West Side in the '90s, Cooper knew the harder side of life. He writes that the street corners were full of gangs and the hallways of his apartment complex haunted by drug addicts. Cooper mostly kept to himself. Then one day he noticed a boat in the school lunchroom and a poster that read "Join the Crew Team." Knowing nothing about the sport of crew, Cooper decided to take a chance. A Most Beautiful Thing tells the story of an unlikely band of brothers that forms a family and forever changes a sport—and their lives—for the better.
Argonautika Performances This Week

Argonautika tells the story of Jason and the Argonauts through a voyage filled with theatrical magic and movement. Join us as we follow the Argonauts through peril, triumph, and betrayal. Guided by Hera and Athena, the audience will meet heroes, villains, and monsters, celebrating—and questioning—the human desire for adventure. This student performance is presented by the Department of Theatre & Dance.

Showtimes in Tang Theatre:
Friday, April 29—7 p.m.
Saturday, April 30—7 p.m.
Sunday, May 1—1 p.m.

This event is first-come-first-serve seating. We recommend arriving 30 minutes prior to showtime to secure your seat. All persons in your party must be present to claim their seats—there is no saving seats and no late seating. Families of students involved in the production can check in at the Information Desk to receive priority seating. Please check in 30 minutes prior to showtime.
"Live in Love" on Sunday
The Fidelio Society, PA's a cappella group, will present "Live in Love" on Sunday, May 1, at 3 p.m. in Cochran Chapel. The concert, free and open to the public, will be directed by Dr. Abbey Siegfried. All are invited!
From the Dean of Studies/Registrar

Check Your Student's Account
Please review your student's account in FACTS for any outstanding balances. All student accounts need to be current before students leave campus in June. Questions? Please email Tina Rioux, bursar.

The Archaeology of Childhood
Join us for a webinar titled "The Archaeology of Childhood: Why Children Matter" on Wednesday, May 4, at 1:30 p.m. ET. This is Season 4, Episode 8, of the Peabody Institute of Archaeology's Diggin' In series.
It is hard to imagine, given how ever-present children are in our modern world, that archaeologists did not begin to study children until about 25 years ago. What can the study of children and childhood offer to archaeology that the study of adults alone cannot? How can an archaeology of children and childhood help us develop more human understandings of our shared past? Dr. Jane Eva Baxter, an archaeologist whose work on children began in the 1990s, will answer these and other questions using examples from the Paleolithic to the present, and from around the globe. Please sign up for this webinar at our online registration page.
Health & Wellness Update

As of Wednesday, April 27, more than 99% of PA students have received 1+ vaccination dose(s) and more than 98% have received a booster (1.9% have received a religious or medical exemption).
COVID positivity is continuing to increase across our community and state, while campus positivity is declining (following the reinstatement of some risk-mitigation protocols). COVID-related hospitalizations remain low, indicating a low level of severe COVID-related illness (coupled with a high vaccination rate, which reduces the risk of severe disease and associated endpoints of hospitalization and/or death). Guidelines on campus will not change today. We will continue to follow the guidelines that Dr. Kington outlined in his campus-wide email on Tuesday, April 26. To see the complete data from Dr. Amy Patel, Sykes Wellness Center medical director, please visit COVID-19 Updates & Information.

Reminder for campus visitors: All campus visitors—including those attending events and activities noted in the Family Bulletin—must be up to date with their vaccinations and wear masks indoors.
Ambassadors Needed

We are seeking volunteers to serve as "welcome ambassadors" for parents and guardians of new Andover students. This is a fun and rewarding way to get to know fellow PA families.
As a welcome ambassador, you will be assigned a small group of new parents and guardians to contact by phone or email at your convenience during May and June. You will receive a template and other guidance to assist with your outreach. The goal is simple: to provide a Big Blue welcome, be a friendly resource, and help grow new parent-to-parent connections.
Questions? Email Elisabeth Munro, assistant director of Parent Development, or call 978-749-4303.
Celebrate Your Senior

The Phillipian, Phillips Academy's student newspaper, will publish its annual Commencement issue over the weekend of June 4. This longer version of the newspaper will capture the major events that occurred throughout the school year and will be available for purchase that weekend.
Submit a "family advertisement": The Phillipian invites parents of seniors to commemorate your student's achievements through a family advertisement in our Commencement issue. Last year, nearly 100 families dedicated a commemoration to their student(s); this year; we hope to achieve 100 percent family participation this year. Members of The Phillipian staff will work closely with you to ensure that your family advertisement features all of the photos and messaging you want to include about your child—and/or a favorite student organization, club, or team that your senior has been involved with—in a professional manner. Please complete this family advertisement form as soon as possible. The deadline is Friday, May 13.
2022 Commencement Reminders

This information has been included in previous issues of the Family Bulletin. We are excited to welcome the families of seniors to campus in June to celebrate Phillips Academy's 244th Commencement. In the coming weeks, an invitation will be sent to your home, and seniors will receive four additional "keepsake" invitations in their student mailboxes. Please note that invitations are not required for attendance.
The following two events that are open to families involve tickets.
Candlelight Baccalaureate: The Baccalaureate service is held in Cochran Chapel on Saturday evening, June 4. Due to fire code capacity, this event is restricted to seniors and ticketed guests. The Baccalaureate will be simulcast in Kemper Auditorium for all additional guests.
Each senior will receive four Baccalaureate tickets (three guest tickets and one ticket for the student) in their student mailbox on June 1. Seniors need one of these tickets to attend this event.
Commencement Exercises: Commencement is held Sunday morning, June 5. We are strongly committed to holding Commencement outdoors, because if held outdoors, tickets are not necessary and all guests are welcome. However, if severe weather forces Commencement to be moved indoors, seating will be limited and admission will be restricted to ticketed guests. The ceremony will be simulcast in an adjacent venue for all non-ticketed family members and guests.
Each senior will receive three guest tickets for Commencement in their student mailbox on June 1. Seniors do not need a ticket for the indoor ceremony.
During Commencement Weekend, all on-campus events, including meals, are complimentary for all guests. Please note that only service dogs are allowed on campus during Commencement.
If you have questions that fall outside of the resources on the Commencement webpage, please connect with Crystal McGuire via email or call 978-749-4282.
News from the PSPA
Social Mixer for Parents/Guardians—Friday, May 6: The PSPA is excited to invite all parents and guardians to an in-person Social Mixer at 34 Park, a "modern Italian" restaurant in downtown Andover. Join us at 6 p.m. for cocktails, apps, and conversation! Please RSVP here. Adults only.
PSPA Book Club—Sunday, May 1: Join us at 8 p.m. ET for our spring term book club to discuss The Last Flight by Julie Clark. Here are questions to lead the discussion. Zoom link for the meeting. Passcode: eYxy2
PSPA General Meeting & Speaker Series—Thursday, May 12
6:15 p.m. ET—PSPA General Meeting: A light dinner will be served at 5:45 p.m. Underwood Room. Zoom link. Passcode: 1WDcGc
7 p.m. ET—PSPA Speaker Series: Senior Student Panel on Navigating the College Application Process: Join us as seniors share their stories about applying to college and pass along the lessons they learned from their experiences. This event is co-sponsored by the PSPA and College Counseling Office. Kemper Auditorium. Livestream Link. This session will be recorded and posted on the HIVE the following week.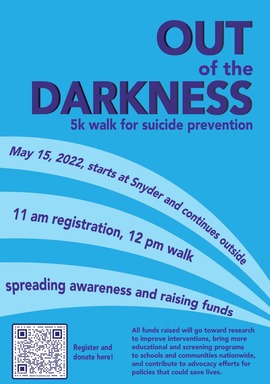 Out of the Darkness Walk: Join the PSPA team on Sunday, May 15, at noon for a student-organized walk on campus to support the American Foundation for Suicide Prevention's mission to save lives. You can also support the effort virtually by walking on your own. Register here as a member of the PSPA team to raise awareness for this important cause. No donation is required to participate.
Campus Closet Opens at Noon Tomorrow: Campus Closet is open Friday, April 29, from noon to 4 p.m. on the lower level of George Washington Hall. Champion sweatshirts are in, with more coming over the next few weeks. Show your PA Pride in a hoodie or crew sweatshirt! You can also shop online 24/7—on-campus delivery is free!
For Your Soon-to-Be Graduate
Senior Lawn Signs: Don't miss out—order a custom-printed lawn sign for your senior by the Saturday, April 30, deadline! To honor our graduates, the PSPA has partnered with Kelly Wentworth Photography in nearby Tewksbury to offer lawn signs for the Class of 2022. The sign can be purchased as a yard sign, complete with frame—or as a digital file, which gives you the flexibility to print the sign near you. A portion of the proceeds will go toward PSPA events and activities. Select from three designs and order here by Saturday.
PA Diploma Frames: The PSPA partners with Church Hill to offer archival quality diploma frames customized with the Phillips Academy seal and school name. It's the perfect graduation gift to showcase and protect your student's achievement. Shop for frames here. Shipping is free.
Summer Program Options Open

Andover Summer's flagship five-week on-campus program has reached capacity, but we are still accepting applications for our five-week eSummer virtual program, which features 20-plus course selections to satisfy every interest. Or, if you live in the Andover area and your student prefers a shorter academic commitment, consider our open enrollment Advantage program for day students. Questions? Please send us an email.
This Week's Religious Gatherings

Friday, April 29

1 p.m.—Muslim Student Association (MSA) Jummah Sermon: Led by Noureddine El Alam. Meditation Room, lower level of Cochran Chapel (side entrance).
6 p.m.—Jewish Shabbat Service—Holocaust Remembrance Day: Commemoration of Holocaust Remembrance Day with speaker George Elbaum, Holocaust survivor, speaking via Zoom. Mural Room, Paresky Commons. All are invited.

Sunday, May 1

6:45–7:30 p.m.—Roman Catholic Mass—Third Sunday of Easter: This Catholic Mass will be held at the campus's Log Cabin, 206 Highland Road, as part of this year's Catholic Confirmation Class Retreat. All are welcome.
Curriculum Corner—Lockdown
Highlights of the Academy's extensive course offerings
Prisons are a growth industry in today's United States. Seniors and uppers in the English/interdisciplinary elective Lockdown (ENG544) examine incarceration through a blend of literature, film, and social sciences. By reading novels, memoirs, and poetry and viewing selected films, students gain a greater appreciation of the psychological effects of these institutions and the power of art as a means of coping for those who are incarcerated. Discussions center on questions about ethics and justice, self-expression, and social con­trol. Lockdown includes some powerful experiential learning in the form of a trip to the Essex County Correctional Facility and to a nearby youth court.
You Are Invited!
Join us in person for "Excellence at Our Core," with Head of School Raynard S. Kington, MD, PhD, P'24, as he meets with the Andover community in these three cities:
Other upcoming events:
Many events are now in person. Join us whenever and however you can!
Please check the Events Calendar on Andover's website regularly for additional in-person and online events that may be open to families. The Weekender is the Academy's one-stop guide to weekend student activities, opportunities, club-organized events, guest speakers, performances, and athletic contests.
Family Bulletin Archive »

Phillips Academy
180 Main St.
Andover, MA 01810


You received this message because you are a valued member of the Andover community. We are obligated to communicate with you, and require you to be on our email list while your student(s) attends Phillips Academy. For more information contact the Dean of Studies Office.
© 2022