Parent Bulletin
Phillips Academy Head of School Office
Rebecca Sykes, associate head of school
May 4, 2012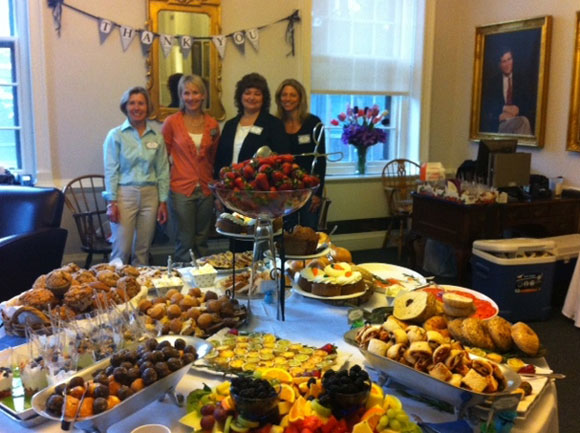 Thank you, PSPA!
Faculty and staff thoroughly enjoyed the sumptuous breakfast provided in the Faculty Room by PSPA on Tuesday, May 1st. The artistic presentation and brightly colored paper goods made the event extra special! Parents who live at a distance should know that you were represented in fine fashion by the generous hosts from the PSPA board, who greeted us genially and re-stocked the tables throughout the morning. Pictured: Eileen Rullo, Jennie Gaiss, Elizabeth DiStefano and Susan Howell. Escaped the photo (!): Laurie Fraser and buffet mastermind Rosemary Palleschi.
Grandparents' Day, May 12
Each spring the Phillips Academy community welcomes grandparents to campus to spend a special day with their grandchildren and glimpse their Andover experiences. Grandparents are invited to attend classes with their grandchild, have lunch at Paresky Commons including a special dessert celebration with Mrs. Chase, as well as attend a student showcase and various athletic events. Click here for more information about Grandparents' Day.
Introducing Susie's!
Grandparents' Day will feature a special tribute at noon to an extraordinary individual and family whose Andover legacy began in 1948 and continues today. The Den at Paresky Commons will be named "Susie's" in honor of Suzanne Goodman Elson, wife of Trustee Emeritus Edward Elson '52, mother of Charter Trustee Louis Elson '80 and grandmother of students Isabel '12 and Evie '15. What was informally known as the "Ryley Room" prior to the dining hall's renovation in 2008, became "The Den" when the building reopened as Paresky Commons in 2009. It is a popular space where students enjoy video games, big screen TV, dances, Four Square, pizza, ice cream and the company of friends. Susie Elson will be on hand for a ceremony hosted by Barbara Chase, and the entire campus community is invited to celebrate "Susie's." The event will feature student entertainment, cake and a make-your-own sundae bar.
In Touch with…
Martha G. Fenton, Athletic Department

Spring is a time when the PA campus is alive with outdoor activity. Whether it is an old Andover tradition such as stickball on the Great Lawn or the more recent four-square battles in front of the library, seeing students engaged in physical play always makes me smile. With so much structured activity in all of our lives, it is wonderful to see groups of students gathering informally and choosing physical activity as a social outlet. On a recent Friday of a six-day week, it appeared that the entire student body was in motion on the Great Lawn, enjoying a rare few weekday hours off together.

The benefits of physical activity are well-documented, but I would argue that the benefits of engaging in that activity as a part of a group are even more compelling. The social aspects of "playing" together, whether it is working towards a common goal as a team or simply as a group of individuals who encourage and challenge each other, are invaluable. Life lessons are learned, bonds are formed, and bodies and minds are stimulated. These benefits are of course not limited to teenagers at PA…so grab some friends and get out and play!
Gap Year Panel, May 9
On Wednesday, May 9th from 5 to 7 p.m., parents and students are invited to a panel on Gap Year experiences and opportunities. Topics will include:
What is a Gap Year?
How does a Gap Year affect college admission decisions?
What are some Gap Year options?
Kelsey Phinney '11, who traveled to Asia, Africa and South America with Thinking Beyond Boarders this year, will describe her experiences, and her parents will contribute their perspective. Other panelists are Robert Clagett, former dean of admission at Middlebury College; Sean Logan, director of college counseling; and Roxanne Barry, director of the Summer and Gap Year Opportunities Office. The panel will be held in the Mural Room, on the second floor of Paresky Commons.
Walk-A-Thon to benefit the American Cancer Society
On Sunday, May 13th, Phillips Academy's chapter of Campuses Against Cancer will host a Walk-A-Thon to benefit the American Cancer Society. The event will be held on Sorota Track from 12 to 4 p.m. Participants are asked to make a $5 minimum donation. This event is open to the public and we hope to see you there for an afternoon of fun, music, activities, and friends, all for a great cause!
Phillipian Commencement Issue
During the weekend of June 1-3, The Phillipian will publish its Commencement issue, a longer version of the paper that captures events that happened throughout the school year. Parents may submit a picture or message to their child(ren), congratulating them on their graduation. In years past, The Phillipian has received so many submissions for this issue that it has run several extra pages, and parents often see it as a keepsake. Commencement ads come in four sizes: small ($60), medium ($80), large ($90) and half-page ($180). Pleases add $20 per order if you would like your ad printed in color. You can design your own ad and send it to jqu@andover.edu as a .jpeg, or send pictures and text and our staff will help with the layout. Please send payment to Connor Soules at 180 Main Street Andover, MA 01810. Checks should be made payable to Trustees of Phillips Academy. Questions? Please contact Matt Deorocki, the Phillipian's Advertising Director, (mdeorocki@andover.edu). Submission deadline is May 21st. Thank you for your support!
News from PSPA
PSPA's Thursday, May 10th meeting topic is Lessons Learned from the College Admissions Process. Ken Shows, associate director of college counseling, will host a panel discussion with six seniors who will discuss their recent experiences in applying to college. The meeting will be held in Kemper Auditorium from 7 to 8:30 p.m.
Videos of the College Athletics Info Session and Life after Andover: The Value of a PA Education are now available on the PSPA website. The password is PAparent.
May Events at the Andover Inn
Boston Bakes for Breast Cancer Fundraiser, May 7th – 13th
The Andover Inn will be participating in the 13th Annual Boston Bakes for Breast Cancer, May 7th – 13th. All proceeds from a specially created dessert "Not Your Average Shortcake"; a lemon pound cake with basil panna cotta and fresh strawberries, will be donated. Proceeds will be shared between Dana Farber Cancer Institute and Bakes for Breast Cancer, Inc to make a difference in the fight against breast cancer by awarding grants to research and treatment programs.
Cash and Carry for the Cause, May 10th, 5 to 9 p.m.
Mingle with friends, shop our pop-up boutique of local and home-based businesses, and purchase unique gifts for Mother's Day while supporting local businesses and a great cause. Enjoy complimentary hors d'oeuvres, free chair massages from Elements, a cash bar with specialty drinks like Pink Cosmos, and the opportunity to participate in the Boston Bakes fundraiser with the purchase of our "Not Your Average Shortcake". There is no charge to have fun and go shopping – only a donation of $5 to enter a drawing at the end of the night with 100% of proceeds going to Bakes for Breast Cancer, Inc.
Mother's Day Brunch, May 13th, 10 a.m. to 3 p.m.
Celebrate Mother's Day with a fabulous brunch at Samuel's. Space fills quickly for our popular holiday brunches. Reservations are strongly recommended. $36 per adult, $18 per child age 12 and under, no charge for children under 3 years of age.
More Upcoming Events
Friday, May 4th
"Race, Migration, and Making America in Brazil" presentation by Dr. Tiffany Joseph '00. Kemper Auditorium, 7 p.m. Free and open to the public.
Friday, May 11th
Naomi Shihab Nye, poetry reading and book signing. Kemper Auditorium, 7 p.m. Free and open to the public.

Academy Chorus Concert featuring The Fidelio Society and Academy Chorus. Cochran Chapel, 8 p.m. This concert is free and open to the public. For more information contact music@andover.edu.