Please Join Us: Kington Investiture Saturday!
The Board of Trustees invites the Phillips Academy community to the investiture of Head of School Raynard S. Kington, MD, PhD, P'24, on Saturday, May 7, from 11 a.m. to noon on the Richard T. Greener Quadrangle. Board President Amy Falls '82, P'19, '21, will lead the ceremony to formally "charge" our 16th head of school.
The iconic Clan MacPherson Pipes and Drums will lead the procession at 11 a.m. and more than 50 students will participate in the program as speakers, singers, musicians, and dancers. Refreshments will follow in Flagstaff Courtyard. Please click here for more information and to register.
We hope you can join us for this historic event. Throughout its 244 years, Phillips Academy has had just 16 heads of school. Its most recent investiture ceremonies were held for John G. Palfrey Jr. in 2012, Barbara Landis Chase in 1994, and Donald W. McNemar in 1981.


Registration Now Open
The Hive is now open for registration for the 2022–2023 school year. As a reminder, there are four primary registration requirements (see diagram below). All items must be completed by July 1. If you have questions about a requirement, please click the "?" email link shown in the diagram. Trouble logging onto The Hive? Please email the Help Desk.

Remember: The Hive is the place to go to submit all required registration items and ensure a smooth start to the new school year!
Grammy Winner to Perform Tomorrow
Singer-songwriter Ben Gundersheimer, known as "Mr. G." in the music world, will be performing in Cochran Chapel on Friday, May 6, at 7 p.m. Winner of a Latin Grammy, Gundersheimer is also an environmental activist, educator, author, and 1985 graduate of Phillips Academy. This will be his first performance at the school. He is dedicating this concert to Rabbi Everett Gendler, Andover's first Jewish chaplain, who passed away recently. The concert is free and open to the public. Masking is required.
Questions? Please email Gail Ralston in the chaplaincy office.
Health & Wellness Update

COVID positivity is continuing to increase across our community and state, while student campus positivity is declining (following the reinstatement of some risk mitigation protocols). On campus, we continue to diagnose seasonal influenza (the season can run from October to May in this area), and in some students, flu and COVID are diagnosed together. Wearing masks and practicing hand hygiene are effective measures against the flu, COVID, and other respiratory illnesses.
Campus COVID guidelines changed yesterday based on Dr. Kington's campus-wide email sent Tuesday, May 3. Of note, masks are now optional in many indoor campus spaces for students, faculty, and staff, including classrooms, dorms, and Paresky Commons. For detailed COVID guideline information and this week's complete data from Dr. Amy Patel, Sykes Wellness Center medical director, please visit COVID-19 Updates & Information.
Masks Still Required for Campus Visitors: All campus visitors—including those attending events and activities noted in the Family Bulletin—must be up to date with their vaccinations and wear masks indoors.
Spring Dance Performance: Leveling

This spring's dance performance, Leveling, is choreographed by guest artist Sayer Mansfield '10, and dance faculty Annie Browne, Erica Nork, and Chelsea Ward. Join us in dancing to celebrate this last performance in the Modern Dance Studio before the Pan Athletic Center dance spaces open in the fall.
Showtimes:
Friday, May 13—8:30 p.m.
Saturday, May 14—2 p.m. and 7 p.m.
Borden Gym, in the downstairs Modern Dance Studio

This event is first-come-first-serve seating. We recommend arriving 30 minutes prior to showtime to secure your seat for the show. All persons in your party must be present to claim their seat—there is no saving seats and no late seating. Masks are required in Borden Gym and the Modern Dance Studio. Families of students involved in the production and campus adults who come to see the show can check in with us onsite to receive priority seating. Please arrive early (30 minutes prior to showtime) to secure your seat for the show.
This event will be livestreamed! Visit this site to get your livestream link.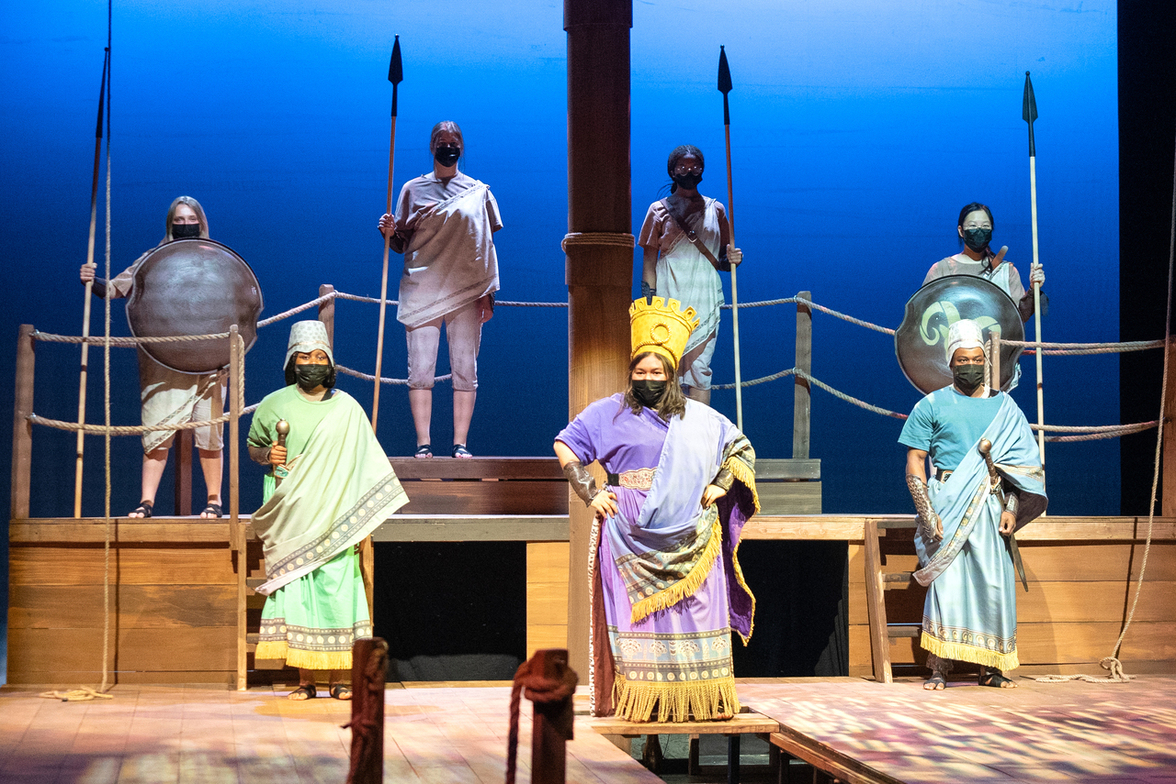 This is one of many colorful and dramatic scenes from a recent student performance of Argonautika, which tells the story of Jason and the Argonauts through a voyage filled with theatrical magic and movement.(Photo by Jessie Wallner)
Student Workers Needed for Reunion

The Office of Academy Resources is seeking PA students to help with various Reunion Weekend tasks in early June. Hundreds of alumni will be returning to campus to connect with one another and enjoy our beautiful campus June 10–12 (full weekend schedule).
Reunion Weekend student work opportunities begin with advance preparation on Monday, June 6—and run through Sunday, June 12. There are many different tasks and shifts. Student workers will be paid $14.25/hour.
Please check with your PA student! If interested in helping with Reunion, they should fill out this Reunion Weekend Staff Application as soon as possible. Recent graduates are also invited to apply. We will reach out to all applicants and begin reviewing applications as soon as next week.
College Athletics Panel Discussion

The PA Athletics Department and College Counseling Office invite you to our annual College Athletics Panel on Tuesday, May 17, at 7 p.m. ET. This virtual program is designed to help prospective college athletes and their families navigate the landscape of college athletic recruitment, including intricacies related to COVID-19.
Speakers include Drew Carter, College of the Holy Cross; Emily Garner, Trinity College; Kevin Loney, Bowdoin College; Lisa Joel, PA athletics director and girls' varsity soccer head coach; and Terrell Ivory '00, PA boys' varsity basketball head coach, associate director of admission, and assistant director of multicultural outreach. Zoom link. Password: 971448
News from the PSPA
Social Mixer—Tomorrow at 6 p.m.: The PSPA is excited to invite all parents and guardians to an in-person Social Mixer at 34 Park, a "modern Italian" restaurant in downtown Andover. Join us Friday, May 6, at 6 p.m. for cocktails, apps, and conversation! Please RSVP here. Adults only.

PSPA General Meeting & Speaker Series—Thursday, May 12:

6:15 p.m. ET—PSPA General Meeting: A light dinner will be served at 5:45 p.m. Underwood Room. Zoom link. Passcode: 1WDcGc
7 p.m. ET—PSPA Speaker Series: Senior Student Panel on Navigating the College Application Process: Join us as seniors share their stories about applying to college and pass along the lessons they learned from their experiences. This event is co-sponsored by the PSPA and College Counseling Office. Kemper Auditorium. Livestream Link. This session will be recorded and posted on The Hive the following week.

Out of the Darkness Walk: Join the PSPA team on Sunday, May 15, at noon for a student-organized walk on campus to support the American Foundation for Suicide Prevention's mission to save lives. You can also support the effort virtually by walking on your own. Register here as a member of the PSPA team to raise awareness for this important cause. No donation is required to participate.
Summer Storage Option
Wondering what to do with your child's belongings when they leave campus at the end of the school year? Phillips Academy has partnered with Collegeboxes to provide a solution for boarders who need to store their clothing, books, furniture, etc. over the summer. Collegeboxes will pick up items, place them in storage, and deliver them to your child's dorm room just before school starts next year. There are costs associated with this service. NOTE: Student belongings cannot remain on campus over the summer.
Essential information and important dates:
Campus Pickup Days
Wednesday, June 1—for ALL Students
Thursday, June 2—for ALL Student
Friday, June 3—for SENIORS and those participating in Commencement ONLY
Monday, May 23
Last day to sign up with Collegeboxes AND still receive a supply kit.

Thursday, May 26
Final delivery of supply kits (boxes)—previously ordered.

Friday, May 27
DEADLINE to sign up. (Student must purchase/find their own boxes.)

Pickup of Belongings
Be sure your child enters their CURRENT dorm and room for pickup location.
All boxes must be packed and ready to go by 7 a.m. on pickup day. Students should finish packing the night before.
Deliveries in the Fall
We will provide your child's 2022–2023 dorm and room to Collegeboxes; you DO NOT need to enter this information. Items will be delivered to dorm rooms before students arrive.
Questions? Please email Claudia Scofield in the Dean of Students Office or call 978-749-4124.
This Week's Religious Gatherings

Friday, May 6

1 p.m.—Muslim Student Association (MSA) Jummah Sermon: Led by Noureddine El Alam. Meditation Room, lower level of Cochran Chapel (side entrance).
6 p.m.—Jewish Shabbat Service: Led by Rabbi Michael Swarttz. Today's gathering will welcome Ben Gundensheimer—"Mr. G"—prior to his concert in Cochran Chapel at 7 p.m. Mr. Gundersheimer, PA Class of 1985, is a Latin Grammy–winning singer and songwriter, activist, and author. Mural Room, upper level of Paresky Commons. All are welcome!

Sunday, May 8

10:30 a.m.—Roman Catholic Mass of Confirmation—Fourth Sunday of Easter: Overseen by Dr. Mary Kantor, the Confirmation Mass will welcome Bishop Robert Hennessey of the Archdiocese of Boston. This Mass is the culmination of a school-year–long spiritual formation with 16 students, who will receive a special outpouring of the Holy Spirit. This sacrament of Confirmation is the last step of initiation into adult Catholicism. All are welcome to witness and celebrate this event for these young people and their families. Cochran Chapel, main level. A light brunch reception, open to all, will follow in the nearby Underwood Room.
You Are Invited!
Join us in person for "Excellence at Our Core," with Head of School Raynard S. Kington, MD, PhD, P'24, as he meets with the Andover community in these three cities:
Other upcoming events:
Many events are now in person. Join us whenever and however you can!
Please check the Events Calendar on Andover's website regularly for additional in-person and online events that may be open to families. The Weekender is the Academy's one-stop guide to weekend student activities, opportunities, club-organized events, guest speakers, performances, and athletic contests.
Family Bulletin Archive »

Phillips Academy
180 Main St.
Andover, MA 01810


You received this message because you are a valued member of the Andover community. We are obligated to communicate with you, and require you to be on our email list while your student(s) attends Phillips Academy. For more information contact the Dean of Studies Office.
© 2022