Parent Bulletin

On the Wellness Front
Second Vaccines: Students 16 and older who are part of our cohort in partnership with Lawrence General Hospital will receive their second dose of the Pfizer vaccine on Wednesday, May 19, and Thursday, May 20. Parents/guardians should be sure to submit a completed/signed consent form. A separate email will be forthcoming with guidance to manage any possible vaccine aftereffects.
First Vaccines for Younger Students: As you may have seen in the email we sent earlier today, we are excited to expand our vaccination program to students under the age of 16. Be sure to read the email for further information about this effort.
Preparing for Summer: If your student needs physical clearance to participate in a summer program, please reach out to your child's primary care provider (PCP). The Sykes Wellness team is unable to sign any activity clearance forms. In some circumstances, we may be able to help provide required information, but your child's PCP will need to sign these forms, as they are most familiar with your child's current physical status and medical history.

Celebrate Your Senior
Diploma frames with PA seal: New this year, the PSPA Campus Closet is offering archival quality diploma frames customized with the Phillips Academy seal and school name. A custom diploma frame is the perfect graduation gift to showcase and protect your loved one's achievement. Learn more here, and save an additional 20% until May 14!

More great gift ideas: Yes, the Campus Closet has the "Commencement tie"—plus countless NEW graduation gift ideas! Click here to learn more.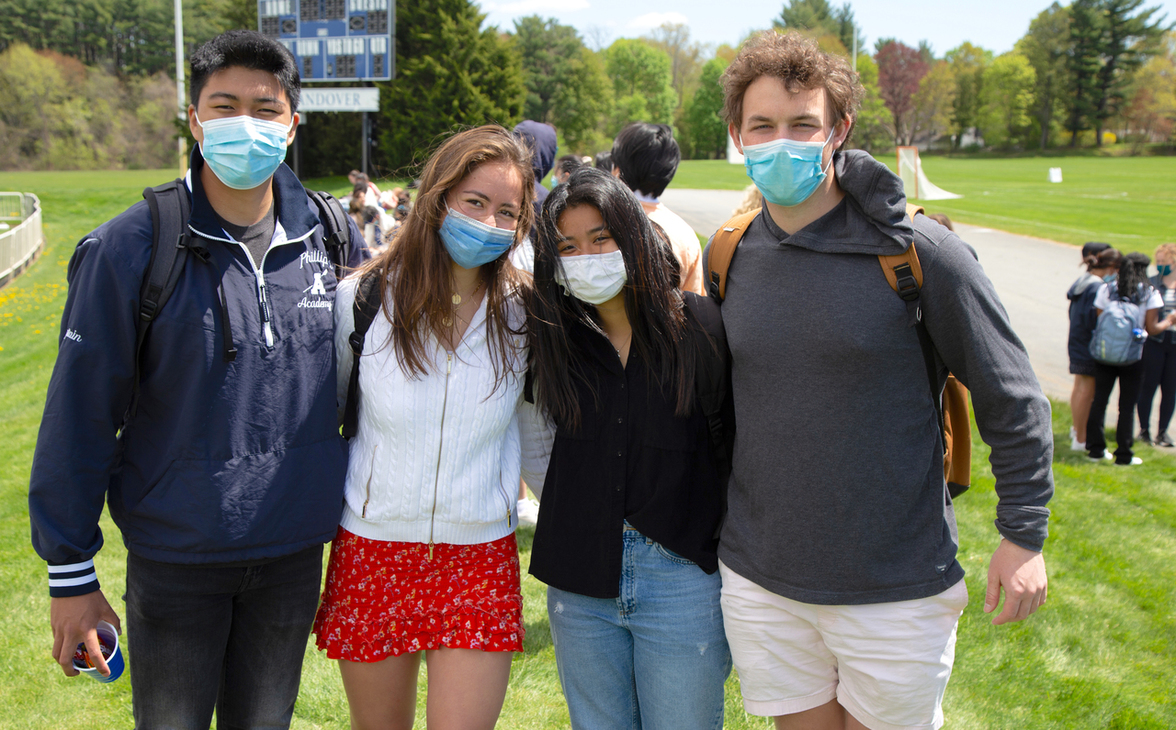 The Class of 2021 gathered for a picnic, games, activities, and a visit from the ice cream truck at last Friday's "Senior Oasis" at Phelps Stadium.
Year-End Reminders
Status change not permitted: As we continue to prioritize in-person teaching and learning, we will not grant requests for students to change their status from on-campus to remote learning in these final weeks of school—except in extraordinary circumstances.

Seniors, behavioral expectations, and Commencement: We are eager to celebrate our seniors over Commencement weekend! Families of seniors, please remind your student to adhere to all campus rules and policies (as stated in The Blue Book and their recent senior letter) to ensure they can participate in all Senior Week and Commencement activities. Let's partner to send consistent messages, uphold community expectations, and keep our seniors on track to graduate with their peers!

Moving Out in June
Note: This is repeat information from last week's Parent Bulletin:
Non-seniors can leave campus at the end of classes on Thursday, June 3 (which is a Friday schedule); boarders may leave earlier if they receive permission from their house counselor. Non-seniors unable to secure a flight until Friday, June 4, MUST vacate dorms no later than noon. Seniors must move out of dorms by the afternoon of Sunday, June 6 (following Commencement).
Siblings of seniors cannot remain in the dorms. They must move out of dorms as stated above and stay with family or friends until the senior graduates.
Parents/guardians/friends who are assisting students with move-out must remain outside the dorm. Only the student is allowed to pack and move their items within the dorm. They can receive assistance once outside.
Students should begin packing soon. Organizing, discarding trash, recycling unwanted items, packing, and labeling should start long before the move-out date.
Collegeboxes (see below) is an option for storing items over the summer, allowing students to travel lightly.
Summer 2021 storage option: Phillips Academy has partnered with Collegeboxes to provide a solution for those who need to store their clothing, books, furniture, etc., over the summer. Collegeboxes will pick up items, place them in storage, and then deliver them to your child's dorm room shortly before school starts in September. There are costs associated with this service. Below is the essential information and important dates. (This information has also been shared with boarding students.)
Collegeboxes pickups are scheduled for Wednesday, June 9 (after all students have left campus).
Phillips Academy will provide boxes, tape, and markers. Do not purchase a supply kit on the Collegeboxes website. Boxes will be delivered to dorms May 20, May 25, and May 28.
Monday, May 31 (Memorial Day)—Absolute last day to sign up for Collegeboxes. Be sure your child enters their CURRENT dorm for pickup location.
Important pickup requirement: All boxes must be packed and items organized and labeled before student leaves campus.
Delivery is before school starts in September. We will provide your child's 2021–2022 dorm and room to Collegeboxes. You do not need to provide this information. Ignore the question. Belongings will be delivered to campus before students arrive.
Questions? Please email Claudia Scofield in the Dean of Students Office or call 978-749-4124.
PA Transcripts for Summer Programs
If your student needs a PA transcript for summer program applications, please have them email the Registrar's Office. Reminder: official transcripts must be sent directly from the Registrar's Office to the organization requesting it.

Fall Registration Tasks & Deadlines
Returning parents, please visit The Hive home page to complete tasks in the Required for Registration box (see below). Some tasks only require a simple review before the "Complete" status will display. Trouble logging in? Contact the Help Desk.
Tuition & Fees 2021—Payment deadlines depend on your payment plan. For both the one- and two-payment plan options, the first payment is due July 15. For the 10-month payment plan, the first payment is due May 15 and successive payments are due by the 15th of the month, through February 2022. Questions? Email the Burser.
My Family Profile 2021—Be sure we have all the correct information. Due August 1. Questions? Email the Registrar.
Health & Medical Insurance Information 2021—Due July 1. Questions? Email Sykes Wellness Center.
Medical Consult Required 2021—Only a few students, such as EpiPen users, will need a consultation in September.
Restorative Justice Presentation
Dr. Fania Davis, a leading national voice on restorative justice, will address the Andover community on Friday, May 14, at 8 p.m. EDT. This opportunity is sponsored by the Head of School's Office. We hope you will join us! Zoom link.

Davis is a longtime social justice activist, civil rights trial attorney, writer, restorative justice practitioner, and educator with a PhD in Indigenous knowledge. She came of age in Birmingham, Alabama, during the social ferment of the civil rights era. The murder of two close childhood friends in the 1963 Sunday School bombing crystallized within Davis a passionate commitment to social transformation. She is the author of The Little Book of Race and Restorative Justice: Black Lives, Healing, and U.S. Social Transformation. Davis visited virtually with faculty and student leaders in March.

Climate Café
Friday, May 14, 7–8 p.m. EDT: Please join us for a conversation with Glen Yelton, head of the environment, sustainability, governance, and impact team for the North Americas at Invesco, an independent investment management team. He will discuss the relationship between climate change and finance. Zoom link. Passcode: 01810

Sponsored by the Oliver Wendell Holmes Library and Sustainability Office, Climate Café is a discussion series featuring experts in climate and environmental science, justice, policy, and advocacy.

Peabody Diggin' In Series
Wednesday, May 19, at 1:30 p.m. EDT: Please join us for "Archaeology, Advocacy, and Social Justice: Preserving the Past for the Future" with guest speaker Dr. Kelly Britt. This talk will explore the theme of advocacy in archaeology as a tool for social justice, particularly in urban settings, drawing on several case studies from New York City. Please send us an email to sign up and get your name on the Zoom invitation list.

Addison Gallery Talk
The Addison at 90: A Conversation with Jock Reynolds and Dawoud Bey—
Tuesday, May 25, at 2 p.m. EDT: Join Jock Reynolds '65, former director of the Addison Gallery (1989–1998), for a conversation with photographer Dawoud Bey about their history of collaboration and the Addison's Edward E. Elson Artist-in-Residence program. Please register here.

Make This a Transformative Summer!
Andover Summer's application deadline for on-campus day and boarding programs is Saturday, May 15. This is the last chance for your child to apply for summer 2021. Our eSummer program application will remain open until June 1. Don't let your child miss out on the experience of a lifetime! Andover Summer is a five-week academic program for rising 7th–12th-graders. If you're in search of a shorter academic commitment, please consider our Andover Summer Advantage program, which is open enrollment.

Updates from Parent Development
Volunteers Still Needed: Help Welcome Parents of New Students! To ensure that every new Andover parent or guardian receives a Big Blue welcome, the Parent Development team is seeking at least 15 additional volunteers for this virtual community-building effort. If you would like to introduce yourself to a few parents of new students, please complete this form by Monday, May 17.
Volunteers will be assigned a small group of new parents (about 10 households) to contact either by email or phone at their convenience during May and June. Volunteers will be provided an outreach template and other guidance to assist with their communications. This is a fun and rewarding way to help make new connections in the PA parent community, and we hope you will consider participating! Questions? Email Elisabeth Munro, coordinator of Parent Development.
Continuing a Senior Tradition: Each spring, the Parent Development team invites our parents of seniors to submit notes of appreciation to faculty and staff. These individual notes will be shown to the recipients after graduation.
To participate, please save each note as a separate PDF file—if possible—and email them to this special address by Wednesday, June 9. Please be sure to include the first and last name of the recipient(s) in your email.

This Week's Religious Services
Masks and physical distancing will be required at all gatherings.

Friday, May 14
1 p.m. EDT—Muslim Student Association (MSA) Prayers: Weekly Prayer Meetings sponsored by the MSA. All are welcome! Meditation Room, lower level of Cochran Chapel (side entrance).
5:30–6:30 p.m. EDT—Jewish Shabbat Service and JSU Meeting: Led by Rabbi Michael Swarttz. We will gather in the tent between Sykes Wellness Center and Bulfinch Hall. All are welcome!
Sunday, May 16
12 noon EDT—Protestant (Ecumenical) Service: Led by Rev. Gina M. Finocchiaro, interim Protestant chaplain. Music by Michael Belcher. All are welcome for this time of scripture, prayer, spoken reflection, and music! This service will be held in the tent near Graves Hall.
6:45–7:30 p.m. EDT—Roman Catholic Mass: Overseen by Dr. Mary Kantor, Catholic chaplain, with priests of the Archdiocese of Boston presiding. Kemper Chapel, lower level of Cochran Chapel (side entrance). Reception will follow. This Mass may be open to students only; please email Dr. Kantor for confirmation.
News from the PSPA
An Evening with College Counseling—Now on Video: If you missed this PSPA Speaker Series event last week, you can still learn about Andover's college counseling process from event hosts Sean Logan, dean of College Counseling, and Kassy Fritz, director. A recording is available on The Hive under the Resources tab. Click Informational Videos.
Follow Campus Closet on Social and Win! We are building our community. Follow us on Instagram and Facebook—and engage each week in May for a chance to win free Campus Closet merchandise. There will be a big giveaway the week before final assessments!
PSPA General Meeting—Thursday, May 20, at 7:30 p.m. EDT: Please plan to join us for our final general meeting of the year and meet our board and other fellow parents. A Zoom link will be provided in next week's Parent Bulletin.
Final PSPA Book Club Meeting: We will be discussing In the Woods (Dublin Murder Squad, Book 1) by Tana French on Sunday, May 30, 8–9 p.m. EDT. You can take a sneak peek at the discussion questions here. Please email us if you would like to participate. All are welcome!

You Are Invited!
All events are virtual unless otherwise noted. Please join us!

Parent Bulletin Archive »

You received this message because you are a valued member of the Andover community. We are obligated to communicate with you, and require you to be on our email list while your student(s) attends Phillips Academy. For more information contact the Dean of Studies Office.
© 2021