Don't Miss the Music!

Several of our large and chamber music ensembles will perform their final concerts this weekend and next Friday. All are free and open to PA families!
Mozart's Requiem
PA families in the area are invited to Cochran Chapel for the first all-student performance of Mozart's Requiem—an amalgamation of solemnity, nostalgia, and hope—on Saturday, May 28, at 7:30 p.m. Members of the Academy's Chamber Orchestra, choir, and band and other student volunteers have created this event to reunite and heal the PA community following nearly two years of separation, uncertainty, loss, and grief. Despite differences in languages, cultures, and traditions, students seek to unite the community with the one common language we all comprehend: music.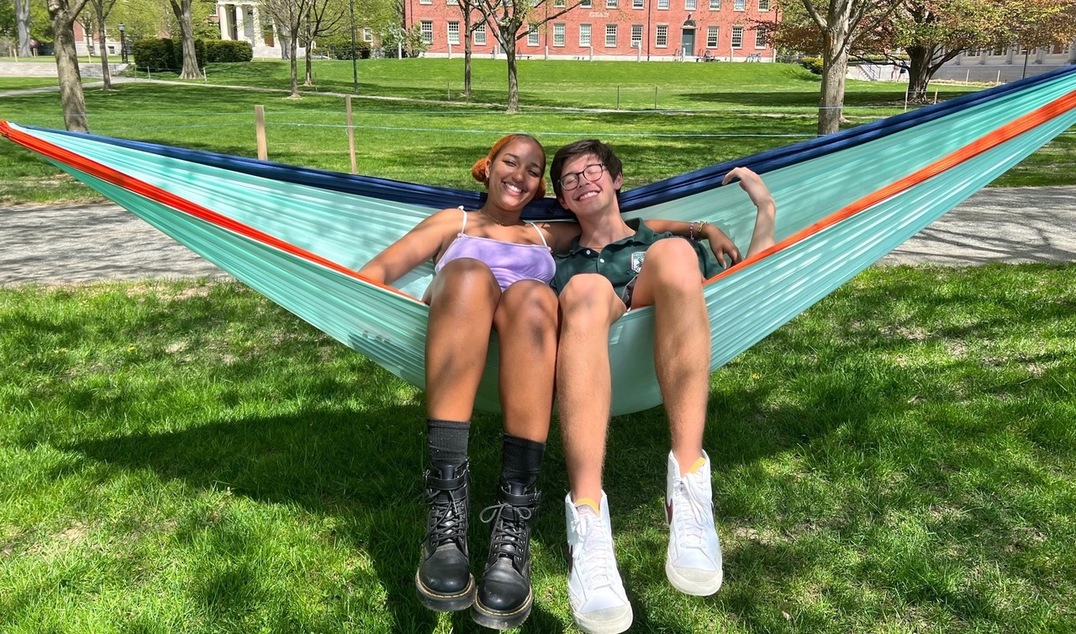 Some fine spring weather has drawn students to the Great Lawn for games, impromptu gatherings, and general relaxation. Many classes are also being held outdoors. (Photo by Jessie Wallner)
Reminder from the Registrar
Please complete all online registration forms for your child(ren) for the fall term as soon as possible. Check the "Required for Registration" section on The Hive to see which forms you still need to submit. Thank you!

Health & Wellness Update

COVID positivity is continuing to increase across our community and state, as well as our campus. This correlates with both the high level of infectivity of the current circulating COVID variants as well as the loosening of restrictions such as masking. COVID-related hospitalizations remain low, indicating a low level of severe COVID-related illness (coupled with a high vaccination rate, which reduces the risk of severe disease). This number is starting to increase again, however. While we remain mask-optional, wearing masks and practicing hand hygiene are effective. For detailed COVID guideline information and this week's complete data from Dr. Amy Patel, Sykes Wellness Center medical director, please visit COVID-19 Updates & Information.
Masks Still Required for Campus Visitors: All campus visitors—including those attending events and activities noted in the Family Bulletin—must be up to date with their vaccinations and wear masks indoors.
COVID-19 Testing for Student Travel in June: We want to ensure that students meet the necessary travel requirements and have any COVID-19 tests they might need for travel home from campus in June. If your child needs testing and would like this facilitated through the Sykes Wellness Center:
1. Fill out this form by Monday, May 23. This will help us identify what is needed, as requirements vary depending on destination and airlines. Even if you have already been in touch with us, please complete this form, as answers to additional questions are required.
2. Sign up your student for an appointment for testing (or have them sign up) in the Sykes Wellness Center Health Portal. Appointments for travel testing are available June 1–4, from 9 a.m. to 3 p.m.
End-of-Term Schedule
Monday, May 30—No classes
Tuesday, May 31—Period 7 (9–11 a.m.) and Period 3 (1–3 p.m.)
Wednesday, June 1—Period 4 (9–11 a.m.), Period 5 (12:30–2:30 p.m.), and Period 6 (3–5 p.m.)
Thursday June 2—Period 2 (9–11 a.m.) and Period 1 (12:30–2:30 p.m.)
Friday June 3—No classes
From Tuesday, May 31, through Thursday June 2, each class will meet once, according to the schedule above. All classes will meet in person; attendance for all students is required.
Term 3 ends at 3 p.m. on Thursday June 2. No instructor may accept any additional work from a student after that time.
Important Move-Out Information & Tasks
As the end of the school year quickly approaches, the Dean of Students Office asks for the assistance of parents and guardians in encouraging their students to complete the following requirements and tasks.
1. Summer Storage with Collegeboxes—The deadline for your child to sign up and get supply kits (boxes, tape, etc.) is this coming Monday, May 23. Students who sign up after this date will need to find their own boxes. The ABSOLUTE last day to sign up for Collegeboxes is Friday, May 27. Collegeboxes will retrieve items between Wednesday, June 1, and Friday, June 3.
Student items must be packed and ready for Collegeboxes by 7 a.m. on the day of their scheduled pick up.
2. Departure from Campus for Non-Seniors—The last day of classes is Thursday, June 2. We expect junior, lower, and upper boarding students to leave campus on Thursday. Those who cannot leave on Thursday must depart by noon on Friday, June 3.
Students performing in Commencement events may remain on campus. We ask that siblings of seniors stay off-campus with parents, if possible. Students taking the SAT test on Saturday, June 4, may not stay in dorms on Friday night.
3. Seniors: Preparing/Packing for Departure—We ask seniors and their families to complete most of the packing and move-out prior to Commencement. No one wants to face this daunting task on Sunday afternoon after the festivities! Seniors are required to be out of their dorm rooms by 6 p.m. on Sunday.
4. Dorm Move-Out—As all students pack up and move out of the dorms, it is imperative that they do the following:
Students should begin NOW sorting, organizing, and packing their items, discarding trash, and recycling/donating items that they no longer want. They should not wait until the last minute!
Campus Sustainability sponsors the GREEN MOVE OUT to reduce waste and recycle items. Donations should be placed in shipping containers located throughout campus between Saturday, May 28, and Sunday, June 5.
Personal furniture must be removed from dorm rooms. These items cannot remain in the dorm over summer. (Dorms are used during Reunion Weekend and Summer Session).
Any Andover furniture that was removed from dorm rooms must be returned to the room.
Large furniture: From Tuesday, May 24, to Thursday, May 26, OPP staff will collect large furniture to be discarded. Items must be placed outside dorms by 9 a.m. each day.
Students must complete dorm duty before leaving campus.
Please remind your student to complete these tasks!
5. Lost and Found—The Dean of Students Office is in the process of gathering all campus lost and found. The items are being sorted and organized and will be available for students to peruse from Wednesday, May 25, to Wednesday, June 1. Students can come to the Dean of Students Office between 9 a.m. and 4 p.m. each workday. All students should stop by whether they believe they have lost something or not!
6. BlueCard ID Photo—All returning students have been asked to submit a head shot for next year's ID. Please remind your student to do this before leaving campus!
We appreciate your assistance in closing out the school year smoothly. Questions? Please email the Dean of Students Office or call 978-749-4124.
Senior Tradition of Gratitude
Parents and guardians of seniors are invited to continue the tradition of submitting notes of appreciation to faculty and staff members who have had a meaningful impact on their child's Andover experience. Each note will be shared with the recipient and the dean of faculty this summer.
To participate, please save each note as a separate PDF file (if possible) and email notes to this special address by Friday, June 24. Please be sure to include the first and last name of the person you are writing about in your email. Thank you!
Your Parent Fund Gift
Did you know that the Parent Fund provides critical support for Andover's academic programs, athletics, student activities, and need-blind admission? If your family has not made a gift to the Parent Fund this year, please consider donating before June 30. All contributions—whether $25, $50, $100, or more—will benefit Andover students and get us closer to 100 percent parent participation.
Please make your gift now and join the 650 families who have already donated this year. On behalf of the entire PA community, we thank you for your support! For questions about supporting Andover, please reach out to Katherine Solimini, associate director of Parent Development.
Commencement—Health & Wellness Guidelines
We are eager to have families on campus throughout Commencement Weekend to celebrate the Class of 2022. For our larger gatherings on campus we ask that you follow these guidelines:
We expect visitors to be up to date with COVID vaccinations, if eligible.
We ask all visitors to take a rapid antigen COVID test within 24 hours of visiting campus (and only come to campus if test results are negative).
We expect visitors to stay off campus if they have any symptoms of illness and to mask if they develop any symptoms while on campus.
If you are a close contact of someone who tested positive for COVID in the last 10 days, we expect you to mask at all times or stay off campus.
Any visitor who is unable to abide by the above policies must mask indoors at all times when on campus.
Thank you in advance for helping to keep our community safe. If you have other questions about Commencement Weekend, please check out the FAQs and schedule of events for the weekend.
News from the PSPA
The most recent PSPA Speaker Series, "Senior Student Panel on Navigating the College Application Process," should be available next week on The Hive under Resources/Informational Videos.

Celebrate Your Senior!
Graduation Ties: Get your Commencement tie and graduation gifts from Campus Closet (lower level of George Washington Hall). Drop by this Friday 12–4 p.m. or shop online at shopandoverpa.com, where on-campus delivery is free!
PA Diploma Frames: The PSPA has partnered with Church Hill to offer archival-quality diploma frames customized with the Phillips Academy seal and school name. It's the perfect graduation gift to showcase and protect your student's achievement. Shop for frames here. Shipping is free.
New This Year—Custom Phillips Academy Fine Jewelry: The PSPA has partnered with Kyle Cavan to offer jewelry and cuff links customized with the PA seal and other iconic symbols. These finely crafted, modern designs will be treasured for years to come. The PSPA will receive a percentage of your purchase to help fund PA student and parent community activities.
This Week's Religious Gatherings

Friday, May 20

1 p.m.—Muslim Student Association (MSA) Jummah Sermon: Led by Noureddine El Alam. Meditation Room, lower level of Cochran Chapel (side entrance).
5:30–6:30 p.m.—Jewish Shabbat Service and JSU Meeting: Led by Rabbi Michael Swarttz. Paul's Room, upper level Paresky Commons. All are welcome!

Sunday, May 22

6:45–7:30 p.m.—Roman Catholic Mass—Sixth Sunday of Easter: Overseen by Dr. Mary Kantor, Catholic chaplain, with priests of the Archdiocese of Boston presiding. Reception will follow. Kemper Chapel, lower level of Cochran Chapel (side entrance).
You Are Invited!
Many events are now in person. Join us whenever and however you can!
Please check the Events Calendar on Andover's website regularly for additional in-person and online events that may be open to families. The Weekender is the Academy's one-stop guide to weekend student activities, opportunities, club-organized events, guest speakers, performances, and athletic contests.
Family Bulletin Archive »

Phillips Academy
180 Main St.
Andover, MA 01810


You received this message because you are a valued member of the Andover community. We are obligated to communicate with you, and require you to be on our email list while your student(s) attends Phillips Academy. For more information contact the Dean of Studies Office.
© 2022