Grieving Together
Our thoughts and prayers are with the families in Uvalde, Texas, where a mass shooting at an elementary school has once again caused our country collective grief and outrage. Days away from school vacation, this tight-knit community lost 19 children and two teachers to senseless gun violence.
This latest tragedy heaps onto a years-long series of mass killings at churches, schools, a movie theater, and a grocery store. The compounding grief in these recent weeks alone weighs heavily on all of us.
Members of our community are invited to come together Sunday, May 29, at 6 p.m., on the steps of Cochran Chapel to process, reflect, and join in fellowship. All are welcome.
Facing yet another horrific event takes its toll in different ways for every individual. Below are links to family resources that may be helpful as you navigate these difficult times with your child.
As always, the safety of our campus community is a priority. Faculty, staff, and students practice safety drills throughout the year, including fire evacuation and lockdown exercises. Academic, administrative, and residential buildings are locked all day, accessible via BlueCard only, and all classrooms can be locked quickly in the event of an intruder. Campus Safety officers patrol campus 24 hours a day and are in regular communication with the Andover Police Department.
If your student is struggling to process these latest events, please remind them that our campus chaplains and counselors at the Sykes Wellness Center are ready to support them.

Suggested family resources:
Theatre & Dance This Weekend

The first two listings are THD901 productions directed by seniors; the third is a THD902 production choreographed by a senior.
The Baltimore Waltz, by Paula Vogel
Friday, May 27, at 7 p.m.
GW Theatre Classroom
Girls Like That, by Evan Placey
Saturday, May 28, at 7 p.m.
Sunday, May 29, at Noon
Steinbach Theatre
All of Me
Sunday, May 29, at 4:30 p.m.
Modern Dance Studio (Borden Gym)
THD365 Choreography Course Showcase & Senior Dance Recital
Sunday, May 29, at 4:45 p.m.
Modern Dance Studio (Borden Gym)
Final Student Concerts
Academy Orchestras Concert—Friday, May 27: This concert will be held at

8 p.m. in Cochran Chapel and feature performances by the Amadeus, Chamber, and S

ymphony Orchestras and a guest appearance from the Academy Chorus. Works include "The Oak" by Florence Price, Freddie Mercury's "Bohemian Rhapsody," and a premiere, "First Light," by PA music instructor Christina Landolt '02.
Mozart's Requiem—Saturday, May 28: PA families are invited to Cochran Chapel at 7:30 p.m. for the first all-student performance of Mozart's Requiem—an amalgamation of solemnity, nostalgia, and hope. Members of the Academy's Chamber Orchestra, choir, and band and other student volunteers have created this event to reunite and heal the PA community following nearly two years of separation, uncertainty, loss, and grief. Despite differences in languages, cultures, and traditions, students seek to unite the community with the one common language we all comprehend: music.
Commencement Concert—Saturday, June 4: This celebratory concert will be held at 3 p.m. in Cochran Chapel and feature performances by the Jazz Ensemble, Fidelio Society, and Chamber Orchestra. Seniors Somin Virmani (tenor), Katherine Horton (soprano), and Catherine Cho (violin) will also perform.

Tuition Payment Reminder
Please review your student's 2021–2022 tuition account on our billing portal, FACTS. All outstanding balances are due in full by Wednesday, June 1. Even if tuition has been paid in full, there may be additional charges, payments, and credits applied to your student's account. If you have already reviewed your statement and taken appropriate actions, thank you. If your student still has an outstanding balance from previous months, please remit payment immediately to avoid late fees. Questions? Please email Tina Rioux, bursar.

Registration for Fall
Please complete all online registration forms for your child(ren) for the fall term as soon as possible. Check the "Required for Registration" section on The Hive to see which forms you still need to submit. Thank you!
Health & Wellness Update

COVID positivity is continuing to increase across our community and state, as well as our campus. This correlates with both the high level of infectivity of the current circulating COVID variants, as well as loosening of restrictions such as masking. COVID-related hospitalizations remain low, indicating a low level of severe COVID-related illness (coupled with a high vaccination rate, which reduces the risk of severe disease). This number is starting to increase again, however. While we remain mask-optional, wearing masks and practicing hand hygiene are effective measures against COVID and other respiratory illnesses. This is especially important to consider as we head into assessment week, end-of-year celebrations, and travel home. For detailed COVID guideline information and this week's complete data from Dr. Amy Patel, Sykes Wellness Center medical director, please visit COVID-19 Updates & Information.
Masks Still Required for Campus Visitors: All campus visitors—including those attending events and activities noted in the Family Bulletin—must be up to date with their vaccinations and wear masks indoors.
COVID-19 Testing for Student Travel in June: We want to ensure that students meet the necessary travel requirements and have any COVID-19 tests they might need for travel home from campus in June. If your child needs testing and would like this facilitated through the Sykes Wellness Center:
Fill out this form. This will help us identify what is needed, as requirements vary depending on destination and airlines. Even if you have already been in touch with us, please complete this form, as answers to additional questions are required.
Sign up your student for an appointment for testing (or have them sign up) in the Sykes Wellness Center Health Portal. Appointments for travel testing are available June 1–4, from 9 a.m. to 3 p.m.
Special Schedule Next Week
Monday, May 30—No classes
Tuesday, May 31—Period 7 (9–11 a.m.) and Period 3 (1–3 p.m.)
Wednesday, June 1—Period 4 (9–11 a.m.), Period 5 (12:30–2:30 p.m.), and Period 6 (3–5 p.m.)
Thursday June 2—Period 2 (9–11 a.m.) and Period 1 (12:30–2:30 p.m.)
Friday June 3—No classes
From Tuesday, May 31, through Thursday June 2, each class will meet once, according to the schedule above. All classes will meet in person; attendance for all students is required.
Term 3 ends at 3 p.m. on Thursday June 2. No instructor may accept any additional work from a student after that time.
End-of-Year Information & Tasks

Reminders from Dean of Students Office:
1. Non-Seniors: Departure from Campus—The last day of classes is Thursday, June 2. We expect junior, lower, and upper boarding students to leave campus on Thursday if possible. Those who cannot leave on Thursday must depart by noon on Friday, June 3.
Students performing in Commencement events may remain on campus. We ask that siblings of seniors stay off-campus with parents if possible. Students taking the SAT test on Saturday, June 4, may not stay in dorms on Friday night.
2. Seniors: Preparing/Packing for Departure—We ask seniors and their families to complete most of the packing and move-out prior to Commencement. No one wants to face this daunting task on Sunday afternoon after the festivities! Seniors are required to be out of their dorm rooms by 6 p.m. on Sunday.
3. Dorm Move-Out—As students pack up and move out of the dorms, it is imperative that they do the following:
Students should begin NOW sorting, organizing, and packing their items, discarding trash, and recycling/donating items that they no longer want. They should not wait until the last minute!
Campus Sustainability sponsors the GREEN MOVE OUT to reduce waste and recycle items. Donations should be placed in shipping containers located throughout campus between Saturday, May 28, and Sunday, June 5.
Personal furniture must be removed from dorm rooms. These items cannot remain in the dorm over the summer. (Dorms are used during Reunion Weekend and Summer Session).
Any Andover furniture that was removed from dorm rooms must be returned to the student's room.
Large furniture: From Tuesday, May 24, to Thursday, May 26, OPP staff will collect large furniture to be discarded. Items must be placed outside dorms by 9 a.m. each day.
Students must complete dorm duty before leaving campus.
Please remind your student to complete these tasks!
4. Lost & Found—All items have been sorted and organized and students have begun streaming in looking for lost belongings! Lost & Found is located in the Dean of Students Office and will be open from 9 a.m. to 4 p.m. each workday between now and Wednesday, June 1. Items remaining after next Wednesday will be donated to a charity.
5. BlueCard Funds for Graduating Seniors—Remaining BlueCard balances totaling $10 or more will be credited to the student billing account. The bursar will apply the money toward any outstanding expenses and then issue refunds. Checks are issued to domestic families; for international families, we do electronic transfers. Please email the comptroller's office with questions. If the senior has a younger sibling attending PA, the BlueCard funds will be transferred to the sibling's student account. Balances less than $10 are not refunded to families.
We appreciate your assistance in closing out the school year smoothly. Questions? Please email the Dean of Students Office or call 978-749-4124.
Thank You from Parent Development
The Parent Development team is grateful for your support and partnership this year, and we extend our congratulations to the families of seniors—we are thinking of you! A special thank you also goes to our dedicated Parent Fund Committee volunteers. This group of 31 parents from around the globe provided tremendous help in growing support for the Parent Fund and Andover students this year.
If your family has not yet made your gift to the Parent Fund, please consider donating before June 30. All contributions—whether $25, $50, $100, or more—will benefit our students and get us closer to 100 percent parent participation. Thank you to the 664 families who have already participated!
For questions about supporting Andover, please reach out to Katherine Solimini, associate director of Parent Development.
Senior Tradition of Gratitude
Parents and guardians of seniors are invited to continue the tradition of submitting notes of appreciation to faculty and staff members who have had a meaningful impact on their child's Andover experience. Each note will be shared with the recipient and the dean of faculty this summer.
To participate, please save each note as a separate PDF file (if possible) and email notes to this special address by Friday, June 24. Please be sure to include the first and last name of the person you are writing about in your email. Thank you!
Welcome Ambassador Update
Thank you to the 51 parents and guardians who are serving as welcome ambassadors for new PA families this spring! Volunteers should have received an email within the past week that includes their list of new families to contact along with other resources.
If you signed up as a welcome ambassador and cannot locate this email (checking your spam folder is encouraged!) or if you have any questions, please contact Elisabeth Munro, assistant director of Parent Development.
Commencement 2022
We are excited to welcome the families of seniors to campus next week to celebrate Phillips Academy's 244th Commencement on Sunday, June 5, 2022. During Commencement Weekend, all on-campus events, including meals, are complimentary for all guests. Please note that only service dogs are allowed on campus during Commencement.
These two events that are open to families involve tickets:
Candlelight Baccalaureate—The Baccalaureate service is held in Cochran Chapel on Saturday evening, June 4. Due to fire code capacity, this event is restricted to seniors and ticketed guests. The Baccalaureate will be simulcast in nearby Kemper Auditorium for all additional guests.
Each senior will receive four Baccalaureate tickets (three guest tickets and one ticket for the student) in their student mailbox on June 1. Seniors need one of these tickets to attend this event.
Commencement Exercises—Commencement is held Sunday morning, June 5. We are strongly committed to holding Commencement outdoors, because if held outdoors tickets are not necessary and all guests are welcome. However, if severe weather forces Commencement to be moved indoors, seating will be limited and admission will be restricted to ticketed guests. The ceremony will be simulcast in an adjacent venue for all non-ticketed family members and guests.
Each senior will receive three guest tickets for Commencement in their student mailbox on June 1. Seniors do not need a ticket for the indoor ceremony.
If you have questions that fall outside of the resources on the Commencement webpage, please connect with Crystal McGuire via email or call 978-749-4282.
News from the PSPA
Congratulations to all our seniors and their families for a job well done! We wish you all a joyful summer together and look forward to seeing returning students in the fall.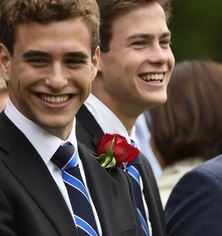 Celebrate Your Senior!
Get a Graduation Tie Today! Time is running out to pick up Commencement ties and graduation gifts from Campus Closet (lower level of George Washington Hall). Drop by this Friday (tomorrow) from noon to 4 p.m. or shop online, where on-campus delivery is free!
PA Diploma Frames: The PSPA has partnered with Church Hill to offer archival-quality diploma frames customized with the Phillips Academy seal and school name. It's the perfect graduation gift to showcase and protect your student's achievement. Shop for frames here. Shipping is free.
New This Year—Custom Phillips Academy Fine Jewelry: The PSPA has partnered with Kyle Cavan to offer jewelry and cuff links customized with the PA seal and other iconic symbols. These finely crafted, modern designs will be treasured for years to come. The PSPA will receive a percentage of your purchase to help fund PA student and parent community activities.
Save the Date
Tuesday, September 20: The PSPA's first general meeting of the new school year begins at 6:15 p.m. ET. Head of School Raynard Kington, MD, PhD, P'24, will launch the 2022–2023 PSPA Speaker Series and answer your questions.
Note: Our most recent PSPA Speaker Series, "Senior Student Panel on Navigating the College Application Process," is now available on The Hive under Resources/Informational Videos.
Planning Ahead for Fall 2022

Please note this Opening of School draft schedule:
Thursday, September 1—Registration 9–11 a.m.: Proctors, Prefects, Day Student Mentors, EBI Seniors, School & Cluster Co-Presidents, CAMD Power Players, World Partners, Blue Key Heads
Friday, September 2—Registration 8:30–11 a.m.: New International Students, Blue Keys, Invited Fall Varsity Athletes (cross country, field hockey, football, soccer, volleyball, water polo)
Saturday, September 3—Registration 9 a.m.–1 p.m.: All new and returning students
Sunday, September 4—Opening of school programming for all students
Monday, September 5—Opening of school programming for all students
Tuesday, September 6—Classes start
Monday, September 7—Special schedule, all classes meet
This Week's Religious Gatherings

Friday, May 27

1 p.m.—Muslim Student Association (MSA) Jummah Sermon: Led by Noureddine El Alam. Meditation Room, lower level of Cochran Chapel (side entrance).
5:30–6:30 p.m.—Jewish Shabbat Service and JSU Meeting: Led by Rabbi Michael Swarttz. Paul's Room, upper level Paresky Commons. All are welcome!

Sunday, May 29

6:45–7:30 p.m.—Roman Catholic Mass—Seventh Sunday of Easter: Overseen by Dr. Mary Kantor, Catholic chaplain, with priests of the Archdiocese of Boston presiding. Reception will follow. Kemper Chapel, lower level of Cochran Chapel (side entrance).
Andover's Host Family Program
For nearly 30 years, the Andover Host Family Program has been instrumental to our international students' transition to Phillips Academy. Volunteer host families living in the Andover area provide occasional home-cooked meals, family outings, care packages, or help with airport runs during the academic year. More importantly, they provide friendship, support, comfort, and "family" opportunities not typically available to international students attending boarding school.
We are grateful for our recent Andover host families: In 2021–2022, as in many previous years, host families opened their homes to students who could not go home during school breaks. The compassion and care many of our students received during the ongoing pandemic also came from Andover families who were not formally a part of the Host Family Program. On behalf of all the students you helped this past year, thank you. You have made a positive difference in the lives of our international students and helped provide warm memories of their time at Phillips Academy.
Please consider becoming a 2022–2023 volunteer host family! This September, Phillips Academy will be welcoming 50 new international students to our community. Most of these students are non-U.S. citizens, some are Americans or joint U.S. citizens living outside the United States, and a few moved to the United States just recently. Countries represented include Australia, Canada, China, France, Germany, Hong Kong, Japan, Mozambique, Nepal, The Netherlands, New Zealand, Poland, Republic of Korea, and Thailand. Being a host family offers a wonderful opportunity for fun and educational cultural exchange.
To get started, please complete this Host Family Volunteer Form before June 10. You will be asked some simple questions about your family, contact information, and hosting preferences. Questions? Please email International Student Coordinator José Peralta.
You Are Invited!
Many events are now in person. Join us whenever and however you can!
Please check the Events Calendar on Andover's website regularly for additional in-person and online events that may be open to families. The Weekender is the Academy's one-stop guide to weekend student activities, opportunities, club-organized events, guest speakers, performances, and athletic contests.
This is the final Family Bulletin of this school year.
Have a great summer!

Family Bulletin Archive »

Phillips Academy
180 Main St.
Andover, MA 01810


You received this message because you are a valued member of the Andover community. We are obligated to communicate with you, and require you to be on our email list while your student(s) attends Phillips Academy. For more information contact the Dean of Studies Office.
© 2022