Parent Bulletin

From the Dean of Studies
This message of encouragement and congratulations was sent by Dean of Studies Raj Mundra P'18, '20, to all students on Tuesday, May 25:
As we approach the end of the term (only 2–3 more classes in each course!), we want to congratulate you on your daily preparation, class engagement, and work done so far. We also understand that students, faculty, and administrators are handling many complex situations this year. It's been challenging for many to stay focused in and outside of class and to complete all of their work to their high standards. In the final few days of the term, if you are struggling in class, please reach out to your teacher and communicate with your advisor point person. We have multiple structures in place to support you.
There are deadlines coming up for small and large assignments. The Dean of Studies Office has instructed teachers to only accept the final student work of the term during their class period in the final week of classes. Any work that is submitted after the end of the term (Thursday, June 3, at 3 p.m.) will not be accepted. Any work submitted after the end of the term (June 3, 3 p.m.) will not factor into the grade published to students, parents, and guardians. Please manage your time well, ask for help if you need it, complete your assignments on time, submit carefully, and plan to hand in your final work for your class at the latest during the final class meeting of the term next week.
We wish you well as you finish the year as well as you can.

Special Schedule Next Week
Monday, May 31 (Memorial Day)—no classes
Tuesday, June 1—follows a Wednesday schedule
Wednesday, June 2—follows a Thursday schedule
Thursday, June 3—follows a Friday schedule
930 and Counting
The Sykes Wellness Center team is pleased to report that 930 PA students have received at least one dose of the COVID-19 vaccination, representing 80.7% of the current student body (including remote students) and 91.5% of students accessing campus. If your student has had a vaccination outside of the state of Massachusetts, please be sure to share that information with us via the health portal.
The last day for junior/lower/upper student COVID-19 testing will be Monday, May 31. Seniors will be tested May 31 and June 3. In-person Andover students have all tested negative for COVID-19 for the past seven weeks.
As we all prepare for end-of-school-year student departures, please let us know if there are specific needs for your child to travel (proof of negative test results, vaccination documentation, etc.) via this survey link. Thank you to those who have already submitted a response.

Commencement Reminder for Parents of Seniors
Thank you for the shared excitement to celebrate our students in the Class of 2021. Last week we sent an email outlining changes in Commencement planning. You can view that communication here. The revised plan now suggests a guiding number of no more than 4 guests per student. You do not need to register in advance. We encourage you to review the Frequently Asked Questions section for additional information.
Our severe weather plans remain as they would in any given year. If we are forced to move the ceremony inside (Snyder Center), each student would be limited to 2 ticketed guests.
All other events in the days leading up to Commencement (Prom, Community Convocation, Baccalaureate) will run as previously planned. Families are not permitted to attend these events, but we encourage you to enjoy the livestream options.
Commencement Attire for Seniors: Commencement is one of Phillips Academy's most formal ceremonies. Students wear attire that honors the significance and specialness of the day. Casual attire, including baseball caps, is not recommended. View photos from previous commencements here.
Preorder Phillipian Commencement Issue
The annual Phillipian Commencement issue—a longer version of the student newspaper that captures major events of the school year—will be sold during Commencement Weekend. You can SAVE by preordering! Preorder here for $15 per copy for pickup during Commencement (the cost is $20 per copy to have them sent to your doorstep). The Commencement issue is the largest paper of the year—a real keepsake with over 75 pages. If you have ordered a Parent Advertisement, you'll be given one copy of the issue for free, but any extra copies will be at an additional cost. Be sure to keep a copy of your advertisement to give to your child!

Help Continue a Senior Tradition
Each spring, the Parent Development team invites parents of seniors to submit notes of appreciation to faculty and staff members who have made a difference. These individual notes will be shown to the recipients after Commencement.
To participate, please save each note as a separate PDF file—if possible—and email them to this special address by Wednesday, June 9. Please be sure to include the first and last name of the recipient(s) in your email. Thank you!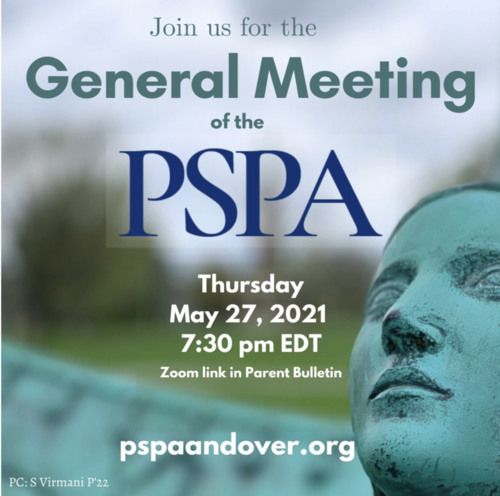 News from the PSPA
PSPA General Meeting, May 27, 7:30 p.m. EDT:
Join us for our final general meeting of the year and meet our board and other fellow parents.
Zoom link
. Passcode: 6Xcsw1
Donut Stress! Remind your student that the PSPA will be providing a study break with a variety of donuts and fruit tomorrow, May 28, 10:30 a.m.–noon EDT at the Gelb Tent.
Final Book Club Meeting, May 30th, 8pm EDT:
Join our final Book Club meeting of the year as we discuss
In the Woods (Dublin Murder Squad, Book 1)
by Tana French. Take a sneak peek at the
discussion questions
, and please
email us
if you would like to participate.
Campus Closet—Last-Minute Purchases:
Last days to order online from
Campus Closet
and ensure on-campus delivery before moveout days: Juniors/lowers/uppers—Sunday, May 30. Seniors—Wednesday, June 2. After those dates, feel free to ship items home—and continue to shop any time, day or night.
Campus Closet Volunteers Needed:
Hooray! In the fall, the PSPA looks forward to opening Campus Closet in person once again. We are looking for local volunteers to help work our "mom and pop" shop. If you are interested and have time during the day (part-time/flexible), please
email us
to learn more! Come help us set up the store, merchandise, re-stock inventory, check out customers, meet other fun parents, and, of course, shop!
We Welcome Your Voice
The Andover Anti-Racism Task Force (AATF) is planning some short group sessions (via Zoom) in
mid-June
to discuss the AATF's work to date. Thank you to the dozens of parents/guardians who have already signed up to help the AATF. All others are invited to sign up
here
to participate in our group sessions. Questions? Please email AATF parent liaisons
Carl Horton P'22
or
Julie Yao Cooper P'21
.
Let Summer Begin!
The application portal for
Andover eSummer
will close on
Tuesday, June 1
. If you are still looking for summer academic opportunities for your child and you live locally, consider the
Andover Summer Advantage program
—a two-week, in-person program taking place Monday–Friday, August 2–13. Enrollment for Andover Summer Advantage will remain open until July 15.
This Week's Religious Services
Masks and physical distancing will be required at all gatherings.

Friday, May 28
1 p.m. EDT—Muslim Student Association (MSA) Prayers: Weekly Prayer Meetings sponsored by the MSA. All are welcome! Meditation Room, lower level of Cochran Chapel (side entrance).
5:30–6:30 p.m. EDT—Jewish Shabbat Service and JSU Meeting: Led by Rabbi Michael Swarttz. We will gather in the tent between Sykes Wellness Center and Bulfinch Hall. All are welcome!
Sunday, May 30
12 noon EDT—Protestant (Ecumenical) Service: Led by Rev. Gina M. Finocchiaro, interim Protestant chaplain. Music by Michael Belcher. All are welcome for this time of scripture, prayer, spoken reflection, and music! This service will be held in the tent near Graves Hall.
6:45–7:30 p.m. EDT—Roman Catholic Mass: Overseen by Dr. Mary Kantor, Catholic chaplain, with priests of the Archdiocese of Boston presiding. Kemper Chapel, lower level of Cochran Chapel (side entrance). Reception will follow. This Mass may be open to students only; please email Dr. Kantor for confirmation.


You Are Invited!
All events are virtual unless otherwise noted. Please join us!

Parent Bulletin Archive »

You received this message because you are a valued member of the Andover community. We are obligated to communicate with you, and require you to be on our email list while your student(s) attends Phillips Academy. For more information contact the Dean of Studies Office.
© 2021